Kenmore's drink overlords have just unveiled five new suds-based cocktails for their summer menu, ranging from mo' standard options like Red Beer (Miller Lite, tomato juice), the ES Boilermaker (house-made Rye, Jever Pils), and the Maldenado (Negra Modelo, tequila, agave nectar, fresh lime), to more obscure potables like the Horseneck Shandy (Harpoon UFO w/ lemonade & Peychaud's bitters), and the Bitter Brew, which is infused with Czechvar, orange bitters, and the sense that all these airhead girls just seem to walk through life being handed everything on a silver freaking platter!
Recommended Video
Live Your Best Life With This Buzzin' Bee's Knees Cocktail
Previous Venue
Next Venue
Venue Description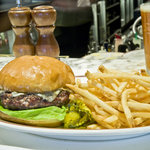 1. Eastern Standard
528 Commonwealth Ave, Boston, MA 02215
A Comm Ave restaurant with the appearance of a swanky French bistro, the menu of a five-star Italian restaurant, and the attitude of a local pub, Eastern Standard is an unpretentious offering of the finer things in life. The upscale menu touts a winding wine list, a raw bar, seared fishes, steaks, and house-made pasta while the matching interior flaunts a polished mahogany and red velvet motif.