Everyone agrees that two is better than one, except for your stupid girlfriend and her stupid ideas about what's appropriate in the bedroom. Stop ruining all three of our lives! Giving you two restos in one Kendall locale, EVOO & Za, soft opening this weekend. Combining two individual concepts under one roof, relocated EVOO and spinoff Za have joined forces (Za's slinging farm-fresh pizza/salads, EVOO, upscale locally sourced American) in a huge, three-room plus patio 275-seat spot with an "open ceiling, high-back grey booth industrial" vibe up front and warm green walls/red damask-print bench seating in the back, plus a shared 32-seat private dining room with paper light shades, bookshelves, and giant pine wood sliding doors, made to look like they're from a barn, which your father will inevitably ask if you were born in when you forget to close them. Pizza deliciousness from Za includes a Caesars with romaine, Parmesan, and croutons sitting atop potato puree, mozzarella, and black olive tapenade; a pie w/ smoked salmon, capers, caramelized onions, and crème fraiche; and the Mac 'n' Cheese covered with four cheeses and toasted bread crumbs, just be careful to avoid following a trail of them back to a creepy witch's house, cuz she's up to no good! There're also heartier entrees from EVOO like parsley/garlic-studded beef tenderloin sauced w/ an orange Béarnaise and portobello mushrooms/sour cream whipped potatoes; a mustard butter-basted baked cape bluefish fillet w/ smoked pig's skin risotto; and spicy braised pig w/ sweet potato croquette, dill pickle chips, and shaved sweet onion that claims that nowadays, everyone "skin-scapes". For small bites/drinks at the shared bar, there's an expanded selection of draft beers (Cambridge Golden Regatta, Smuttynose Old Brown Dog), as well as apps like apple bacon salsa-smothered cornmeal fried oysters w/ goat cheese fondue and striped bass belly cake with lamb bacon, which is delicious, not that that matters to Kristin!
Recommended Video
This Rosé-Filled Picnic Is the Perfect Summer Festival
Previous Venue
Next Venue
Venue Description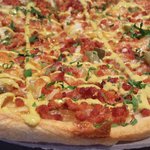 1. Za
350 Third St, Cambridge, MA 02142
Za is whipping up unique, decidedly high-brow pizzas in an industrial-chic space adjacent to sister restaurant, EVOO. The pan-baked pies clock in around 10-inches, which means they're basically personal, and the topping combinations rotate frequently based on the availability of fresh, locally sourced ingredients. Past hits have ranged from updated takes on traditional pies, like mushroom and peppers with goat cheese, to seasonal varieties, like one topped with butternut squash puree, caramelized onions, apple butter, and cloumage and cheddar cheeses. Despite the artisanal nature of Za's menu and fancifully plated appetizers like avocado salad and charcuterie, the atmosphere remains friendly and casual.