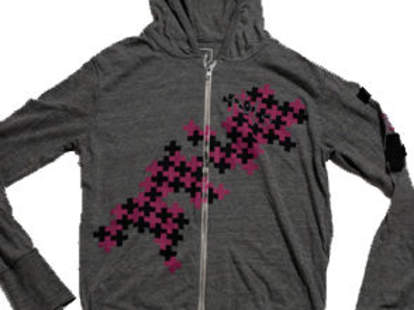 e.e. cummings once wrote about the struggle to be yourself in a world that tries every day to make you like everyone else, but what does he know, his name isn't even capitalized. Fighting for that uniformity nevertheless, Faith & Fortune, launching today
From two Beverly-based 30-something friends casting aside careers in sales/physical training, F&F wants to ensure you're not caught wearing the same duds as everybody else by producing super limited runs of intricately designed graphic tees, jackets, and hoodies that "carry unique meaning and opportunities for expression" and come with an individually numbered tag to authenticate that they weren't mass produced, and that "you're it". Designs include the gray eco-heather Cross Tess zip-up hoodie w/ pink/black "plus sign" pattern across the front; the lightweight black cotton fleece Moto jacket w/ snap button collar strap, zipper cuff sleeves, and elegant embroidery on the back shoulder; and a white poly Pelican tee that displays an elaborately drawn bird with a red stream that represents the blood they supposedly feed their young during famine... so, now you know! Other artistic tees include the Crest, a slim fit crewneck w/ distressed edges and an image of three yellow angels atop a shield/hearts/skulls; the Grant Hanna-designed cotton jersey Indie Rock short sleeve w/ abstract fluorescent floral-like designs and 80s metal-inspired typography; and the Forrest brown Wilderness tee w/ a wavy design that includes a bird, an otter, and the words "Wilderness is for no man; It is for itself", further proving why no one wants to play pick-up b-ball with Wilderness.
In an effort to keep rocking new looks, FF plans to have shirts drawn by featured artists from across the country and'll include a spot on their Web site where you can submit your own designs for future consideration -- giving you a chance to capitalize on your creative talents, unlike poor, little e.e.