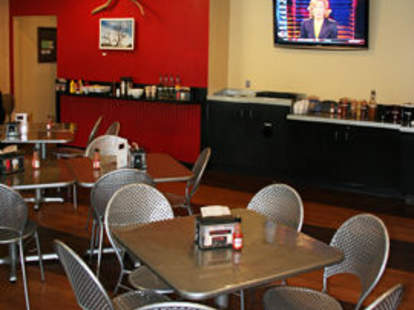 Meeting someone abroad can mean instant friendship, whether it's because of a shared sense of adventure, or because no one else speaks English, or because that someone is Matt Damon, and he totally went to Princeton with you. Parlaying their overseas meeting into choice grub here, Firebox BBQ, now open
From two local chefs who met studying hotel management in the Swiss Alps (chalet management?), Firebox is a 44-seat bastion of smoked meats modestly adorned with silver painted tables, a black leather couch, and red leather club chairs affronting a giant flat screen, and Southwest photography hung on red/yellow brick walls, sadly following them will only lead you to the bathroom. Sandwiches include a Kaiser roll'd sweet sauce-soaked beef brisket w/ red bliss potato salad; a SC-style mustard-based pulled chicken plated w/ Vermont cheddar mac 'n cheese; and pulled pork loaded w/ bacon, Swiss, and pickles known as the Firebox Cuban, also a secret Ahmad Rashad discovered, after a little too much NBA Access. Heartier combo platters include a quarter of slow smoked dark meat chicken w/ roasted chunked sweet potatoes tossed in olive oil, rosemary, and garlic; a half rack of either pork or beef back ribs w/ bacon bit-topped Southern-style greens; and a three-meater that includes any of nine options like beef brisket, smoked turkey in a sweet and tangy chipotle mango sauce, and Kansas City-style burnt ends, much less mortifying to eat than Kansas City split ends.
For booze they've got six draughts (Land Shark, Drifter Pale Ale, Long Hammer IPA), and an eclectic selection of wines like Backhouse Chardonnay, Red Tree Pinot Noir, and Ass Kisser Shiraz -- a robust wine that at first will seem irresistible, but don't even think about going on holiday with it to Sanremo, then renting a small boat.