First look at Davis Sqr's 32-draft eatery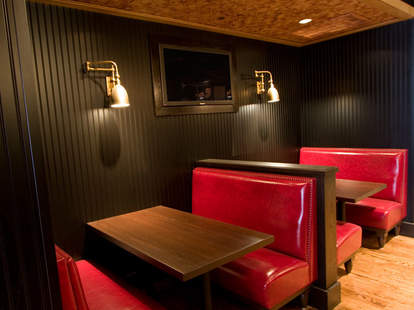 Teenagers make all kinds of untenable promises to one another, like "We'll go to the same college", and "I'll never bang your girlfriend while listening to Jodeci". Actually fulfilling their promise to fill your gullet, Foundry on Elm, opening tomorrow.
A highly-anticipated joint venture from two industry heavyweights who've dreamed of working together since high school, FOE's a brasserie-tavern hybrid (brassevern!) balancing oft-local hearty fare with enough artisanal draughts to keep you from suffering through an artisanal drought. The former Bowl & Board space now resembles a luxe European train station cafe, with an Italian marble-topped 43ft bar backed by house-distressed mirrors set in dark wood walls, surrounded by black & white tile flooring, and separated from the dining room by marble standing counters; banquettes to bar stools're all red leather, and the vibe's polished off by tin ceilings studded w/ lamp-shade chandeliers and a wall of amber factory glass separating the kitchen, which is apparently on high alert now that you're there. Local odes run from a fully stocked raw bar (littlenecks, jonah claws, scallop ceviche...) to bacon/sweet corn/arugula flatbread 'za, while burlier Euro farm grub includes spaetzle w/ ham, shrooms, and Comté; traditional Coq au Vin w/ lardons & pearl onions; and beer-braised Beef Carbonnade w/ onions & root vegetables, who're down on themselves for being unable to kick it.
Those artisanal beers're spread over 32 taps/casks (Founders Red's Rye, Dark Horse Crooked Tree IPA, Bear Republic Red Rocket...) and 35 bottles/cans (Stone Ruination, De Ranke XX Bitter, etc.), but craft cocktails hit the scene too, from the Rhum/bitters/vermouth Neopolitan Sailor, to the vodka-fueled Kurant Affair, something Kevin Alexander is definitely not having to the dulcet tunes of "Forever My Lady".
Photo Credit: William Horne