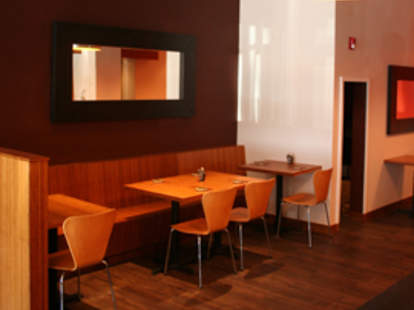 Before heading to the big city, it pays to work out the kinks in a smaller, more forgiving market -- like playing baseball in Kansas City, or doing anything in Kansas City. Testing its big city mettle, The Ginger Exchange, opening Thursday.
The first in-city offering from the owner of Ginger Pad in Burlington, GE is billed as a hip "urban sushi bar" offering a funky twist on Asian fusion with an eclectic selection of late night sushi/sashimi, noodles, and create-your-own bento boxes in an overhauled 80-seat space (formerly Montien) replete w/ 20+ wood tables, two bars (sushi and full), brushed metal light fixtures, and a heavy dose of authentic bamboo paneling throughout. Sushi-wise, GE preps raw fish apps, combo platters, and specialty rolls like the the Hoppin' Jalepeno (crunchy spicy tuna and cucumber w/ salmon, jalapenos, and wasabi tobiko); the Over the Rainbow (tuna, salmon, crabstick, and avocado); and the Red Line, a shrimp tempura, spicy tuna, and cream cheese roll that's probably going to Ashmont, even though three trains have already passed that're going to Ashmont, and who knows whether the Braintree train is even running. For a different take on more traditional entrees there's the Okinawa (seared jumbo scallops w/ lemongrass and veggies); General X's Chicken & Shrimp mixed w/ onions, Mandarin oranges, and a pinch of chili; and the sautéed shiitake, Enoki Maki, and grilled portabella Mushroom Trio, also the name of your naked acapella crew at Exeter.
If you're searching for apps and hard-to-find drinks, GE offers the XXX platter (Mai-Tai shrimp skewers, dumplings, and Thai Buffalo wings) to accompany sparkling sake, Turley Wines by the glass, beers like Hitachino Ale and Unibroue Terrible, and specialty cocktails like the ginger-infused Cognac w/ lemon juice Asian Pear, which pulled a lot of tail in Kansas City, despite its awkward bod.