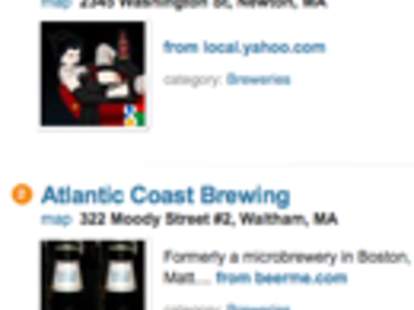 You know when you're just sitting around your apartment, bored, wondering what you're going to do that night and then you realize you've got the power of the Internet in your hands, then eight minutes later you're still wondering what you're going to do that night, just kind of sweatier? Harnessing the powers of the Net for your social life, Goby.
The Leather District-based brainchild of five online gurus with a combined 15 Interweb startups, Goby is a new search engine born in an MIT lab (after one founder missed a Jack Johnson concert) that uses "deep Web" technology to scour the best of the web strictly to find fun stuff to do in your free time -- like miss Jack Johnson concerts. Here's how it works: if you already have an idea of something to do, i.e. see a band, go hiking, find a hotel as close as possible to Canobie Lake, etc, simply enter a keyword in one of the site's three basic "What", "Where", "When" search fields; otherwise, browse the extensive 200+ category drop-down menus (i.e. entertainment, food & drink, helicopter flights, etc) to choose something that looks remotely fun and click search; the engine then scans pre-screened, high-quality databases on the World's Widest Web to compile an organized page of numbered, easy-to-read blurbs (not just links to other web sites) that include the critical deets/pics and are charted by location on an interactive map -- so you can see exactly the route you'll take before inevitably ending up at the Hong Kong, because hey, this is a pub crawl. Once the results are up, you can sort by relevance/distance/name, filter by keyword, or learn more about each offering by clicking on the "more info", "photos", and "what's nearby" tabs; then again, if you're sold on a particular skydiving trip, just follow the link back to the original site to book it, because jumping out of airplanes sounds awesome, and you're totally going to do it this time. Definitely! Who's in?!?
While Goby just went live yesterday, they already have some new features in the works: adding video, reviews, a corresponding iPhone app, even a trend section to showcase what's hot, which you're totally going to hit up once you change sweatpants.