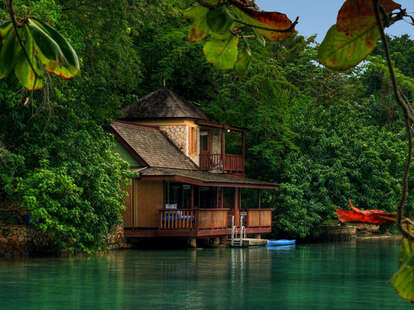 Literary vacations can be fun and educational, from visiting the Hemingway house in Key West, to finding that Shortstop all the way in Tokyo. Now allowing you to add Ian Fleming's most famous character to the list, the GoldenEye Hotel & Resort
Originally a lush tropical postwar retreat (and one-time donkey racetrack) where the British intelligence officer-turned-scribe penned the entire James Bond series, this just reopened resort paradise (named for a secret WWII spy mission) on Jamaica's north coast is nestled amidst 50 acres of exotic gardens, warm seawater lagoons, and private beaches/coves, though sadly no Cavern where it's "slappers only" and Casey always cheats by being Oddjob. Accommodations include the flagship Fleming Villa (his original 3-bedroom house now outfitted with exclusive swimming pool/beach, outdoor rain shower, and two guest houses); 11 illmatic new 1 & 2-bedroom cottages nestled beachside; and even an isolated lagoon villa with separate lounge/entertainment area and three bedrooms, each named for a different Bond vixen: Vesper, Romanova, and Solitaire, who was only trumped in seduction by "Minesweeper HugeRack". Outside the room, you can feast on homecooked Jamaican cuisine (parrot fish, fried plantain, freshwater crayfish) at two new restaurants, hike through a forest of native Cannon Ball/Banyan trees, or get your activity on with deep sea fishing on the hotel's 26-footer or a private jet ski trip to two isolated beaches accessible only by water, one of which was where bikini-clad Ursula Andress emerged from the sea in Dr. No, also what Dr. Pepper was called before they got professional marketing help.
To relax in the evening, you can catch any of the flicks (please not the Timothy Dalton ones), engage in a game of backgammon or Hollywood rummy, or just kick back with a book from their Bond library, the breadth of which span a long time, including The Year Mom Won the Pennant.