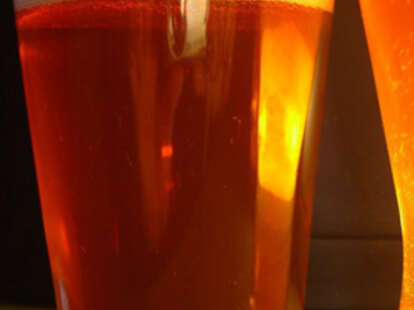 Even though picking the correct beer to pair with your grill grub is usually determined by your proximity to said brew, we went above and beyond and asked President of the Drink a Better Brew tasting service Matt Webster to offer up some specifically selected brews:
Scallops: Webster says the slight smokiness of the grilled scallops will "mesh elegantly" with the malt and hops of an American Amber Ale, particularly a "full-bodied, copper-red", or even just a skinny one with an above-average dye job and a lusty laugh.
Try: North Coast Red Seal Ale
Sliders: For some baby burger action, Webster adamantly recommends an extra pale ale, pronouncing the combination "a done deal", which is more than you can say for your bold high school prediction that you'd "invent a faster way to sleep".
Sip: Berkshire Steel Rail Extra Pale Ale
Fenway Franks: For taking down a dog, go for a golden amber German pilsner w/ a sweet caramelized grain aroma, like this one from a PA brewery that also makes a beer called Hoptimus Prime, which really has nothing to do with the hot dogs, it just seems kind of awesome.
More Than Meets The Eye: Legacy Brewing Company Reading Pilsner
Grilled Chicken: The sweet but dry characteristics of this Saison (farmhouse ale) should offset the juiciness of the chicken perfectly, says Webster, as long as Uncle Steve doesn't overcook it. You suck, Uncle Steve!
Chug: Saison Dupont
Hot Italian Sausage: To balance out the spice and fattiness of the sausage, Webster recommends this strong American ale due to its rich malt backbone that leaves "the tenderest trace of sweetness on your tongue", like making out with the ghost of Walter Payton, if it was, like, a girl or whatever.
Trade Up For: Stone Arrogant Bastard
Pork Loin: A Scotch ale can be sipped with the pork or served as a marinade on it, providing "hints of fruit, cinnamon, and vanilla" to "practically wrap itself" around any pig, also a cunning strategy at Jimmy Buffet concerts.
Snag: Orkney SkullSplitter
Ice Cream Sandwiches: When everyone screams for ice cream, opt for a creamy, chocolate-colored Hefeweizen, which is much darker than most Hefs, which may help explain how it sleeps with the more rebellious Playmates.
Daintily Sip: Schneider Weisse