If there's one thing you learned from watching Braveheart, it's that the Scottish people possess a fiercely independent spirit, and if your name is Bruce, you get a "the" in front of it. Now bringing their fiercely independent grub to JP, The Haven, opening today. From a Scottish expat/ acclaimed 9-year Matt Murphy's vet eager to import a little Tartan taste to the Hub, the Haven is a pub/kitchen serving upscale across-the-pond comfort fare & craft beers in the 45-seat, two room, former Zon's space, overhauled with unvarnished reclaimed planks, an illuminated faux fireplace, a collection of antler chandeliers, and several framed Scotland v. England football programs, which thankfully weren't hung by an Englishman cuz they'd have probably been dropped. U-S-A! U-S-A! Hearty Scot fare includes a caraway crusted, ale-braised beef pie w/ onions and potatoes; a stout-battered Haddock Fish Supper sided w/ thick-cut chips and minted mushy peas; and Dijon whiskey butter-drizzled traditional lamb Haggis, Neeps and Tatties, which is exactly what you think it is: lamb heart, liver, and lungs, served with potatoes. Other deliciousness includes a mustard gravy'd Cumberland sausage w/ horseradish mashed taters; an onion marmalade-smothered half-pound burger topped w/ bacon and Ayshire Dunlop cheese; and Tikka Masala, a smoked chicken and red curry dish that allegedly originated in Glasgow, not that much of a surprise considering it is the 57th most liveable city in the world. If you're tired of just eating haggis, TH rocks small bites like a crispy sausage-wrapped hard-boiled egg w/ spicy mustard; smoked salmon and oat cakes; and potato/onion soup w/ snap peas and bacon called Cullen Skink, as well as a solid lineup of session draughts including Notch, Bitter and Twisted, and Pretty Things, which Scotland may possess a lot of, though one is definitely not Robert the Bruce's dad.
Recommended Video
HearseCon Is the Biggest Hearse Event of the Year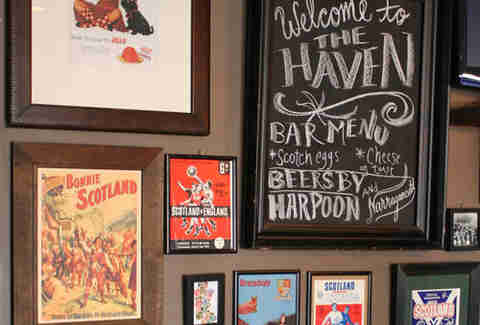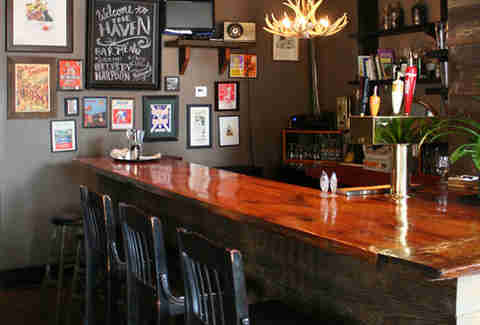 Previous Venue
Next Venue
Venue Description
1. The Haven
2 Perkins St, Boston, MA 02130
The Haven brings a slice of Scotland to Jamaica Plain in the form of a dual-room, 45 seater, serving craft beers and traditional fare from across the pond like vegetable bridie, haggis with neeps, and white pudding sassitch and mash.