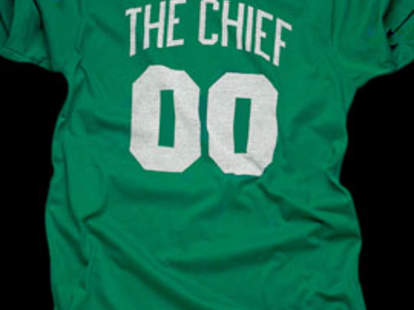 Boston is defined by its storied history of insane sports obsession...so it's too bad all of your clothes from eras of athletic yester-lore are youth smalls covered in Brigham's Ice Cream stains. Upgrade your infatuation, with Homage.
With some fresh-off-the-presses Boston action, Homage's "buttery soft" vintage-looking tees all make "shout outs to eclectic moments and personalities from sports, music, politics, and pop culture", much like a wedding toast from your bi-polar best friend. Just dropped're two brand new numbers gloriously repping the Hub: a green "The Hick From French Lick!", and an athletic gray "Boston Lumber Company" model, honoring late 70s sluggers like Yaz, Lynn, Rice, Fisk, Burelson, even a pre-yayo conviction Butch Hobson! If that doesn't sate your hometown thirst, they've also got a "The Chief" 00 Celtics green tee, and a gray with white and green block lettered "Beantown", for those times when you travel abroad, and really feel like getting kidnapped and eaten.
Once your city-ism has been engorged, you can also grab goodness from (gasp) other parts of the country, like a gray Doctor J, a purple and yellow Pistol Pete, and a priceless "Bernie Kosar for President" -- trading out times that were for times that hopefully some day may still be.