Persian comes to Coolidge Corner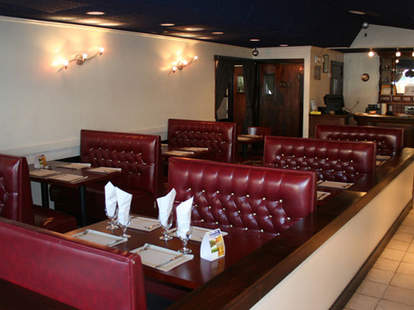 A wise businessman knows that if you want to succeed, you follow the customers -- just not with the headlights on, since then they would totally know. Following his patrons only so far, Khayyam, open now.
Aiming to grow his restaurant and move closer to his patrons, the owner of Watertown's Jasmine has doubled down, opening a larger second locale serving a similar menu of Persian classics (with a twist of Mediterranean) in a simply stated 66-seater featuring two rooms (one that shoots straight, one slightly more exotic), w/ red leather booths, and framed Middle Eastern art, which keeps demanding that DNA test. Meaty Iranian entrees include Braun-sauce soaked lamb shank Mahicheh Baghali baked and served atop Persian green rice; Mahi Azad (olive oil and lemon juice-marinated salmon filets sprinkled w/ saffron and skewer-roasted over an open flame), and Khoresht Ghormeh Sabzy, which is dried lemon infused and stewed tender beef that started out with a lot of angry yelling, but ultimately settled its differences with a slightly forced hug. Hen deliciousness includes chicken kubideh atop a bed of sweet and sour barberries and saffron rice; the lentil, sautéed onion, and raisin mixed Adas Polo Morgh; and chicken/basmati rice topped w/ almonds, pistachios, and sweet cherries known as Albaloo Polo, also a game played with horses, bathrooms, and that "actress" who thinks she's an actress.
For Mediterranean enthusiasts, there's shawarma, fatoosh, and baba ghanoush to complement currently available Persian spreads Kashk Bademjan (toasted eggplant puree w/ onions and mint) and chopped shallots in yogurt, which is a customer favorite, as evidenced by a quick, totally professional rummage through their trash.