Aggressive moves can make or break empires, like Napoleon's frigid march to Moscow, Alexander's invasion of India, or your foolish siege on Kamchatka. No one can ever hold Kamchatka! Bravely attempting to conquer the 'bridge, Lord Hobo, soft opening this weekend.

After dominating Western Mass brew culture with the Moan & Dove and The Dirty Truth, the owner of LH is attempting the same moves in Inman, with a wood-heavy temple to beer, specialty cocktails, and traditional Irish/American comfort food in the old B-Side Lounge space, replete w/ deep reddish-brown walls, two massive flat screens, and tables, booths, benches, and a bar made of rich mahogany, which openly admits that money gives it wood. The focus is on the drinkin', with 36 draught beers (Mayflower Golden Ale, Green Flash Hop Head Red, Hercule Stout, etc), 39 wines (Liberty School Syrah, Clos Apalta, Montinore Pinot Gris), and 24 carefully crafted cocktails like the Cat Wagon (vodka, Chambord, Lillet blonde & fresh lemon); Monkey Business (brandy and velvet falernum topped with weisse beer); and white rum w/ St. Germain and fresh lime/mint known as Hot For Teacher -- which would be a lot easier to enjoy if you hadn't gone to a Jesuit school. Foodwise, they've got braised lamb shepherd's pie w/ root veggies and traditional Irish colcannon; a marrow butter-dripped 12oz natural beef sirloin sided w/ Gorgonzola whipped potatoes and watercress; and a saffron risotto paella w/ calamari, mussels, and mahogany clams, which probably got together on the bar.

If you're waxing nostalgic for B-Side's hardboiled eggs, LH answers your snacking needs with tasty apps/small plates like gravy chips, deviled eggs w/ white truffle, avocado & smoked chili, Maine lobster mac & cheese, and remoulade-dipped fried sweet neck oysters, a delicacy for which the Okhotsk Sea in Kamchatka is known -- why else would it be worth two Cavalries and an Infantry??
Recommended Video
These Onion Rings Are Stuffed With Cheeseburgers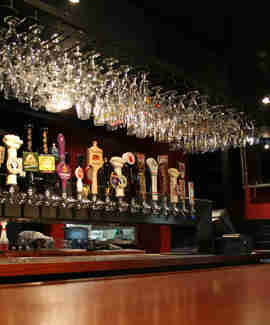 Previous Venue
Next Venue
Venue Description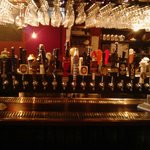 1. Lord Hobo
92 Hampshire St, Cambridge, MA 02139
While hobos are generally seen as bindle-carrying and dirty, the Lord Hobo in Cambridge is living well at the top of the vagabond hierarchy, serving specialty cocktails, beer, and American comfort food in a rich mahogany space with large flat screens. The 40 taps offer everything from the best New England breweries have to offer to interesting Euro selections -- when was the last time you had a craft beer from Norway?