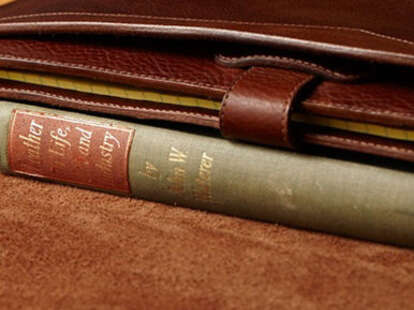 Fall River used to be a place where dreams were made, until everyone finished the book and realized their drug dealer actually was Chris Herren. Giving you a new reason to dream about the Rivah, Lotuff & Clegg Leatherworks
A recently launched collab between two friends with over forty years of experience in the leather making biz, LCL is a home-grown Fall River-based studio that designs and stitches a high-end collection of hand-crafted leather briefcases, messenger bags, duffels, and accessories, all certain to get you noticed on your next job interview/PETA rally. On the professional tip there's the veggie-tanned brown leather Signature Carry All w/ two-buckle fold-over flap and solid brass hardware; the black 17-inch Messenger that sports clean lines and full-width pockets both under the flap and on the outside back; and the sleek light brown Lock Brief w/ two card pockets, a Swiss Amiet lock, and a six-layer folded handle, because five-layer handles = muy shoddy. They've also got a classic carry-on Signature Duffel w/ extended-zipper, and swivel-clipped shoulder strap; a tumbled leather Flapover Document Case w/ natural suede interior and simple slide-through closure; and an elegant full-grain briefcase based on the classic British school boy bag and equipped w/ multiple pockets (two pen, two card, one phone) and an optional handcuff for security, called the English Brief, which is like the Pelican Brief only much ruder to Australians.
LCL also crafts a beautiful selection of accessories like a zippered travel/Dopp kit w/ inside pocket and washable/waterproof lining; a brass-buckled belt in brown or black; and a simple-stated slim-stitched bifold wallet; they're also planning a series of Scotch/wine and leather parties around Boston before the holidays, so you can finally follow your own dream of having somewhere to go after you met up with Chris, and definitely aren't going to sleep.