The Grotto chef meticulously restored this two-floor former speakeasy's Prohibition decor (original black and white paint job, tin ceiling, white marble bar), and's now slinging appropriate hooch like The Great Experiment (Hendricks, mint, cucumber, lemon, orange), The Molasses Flood of 1919 (Sailor Jerry's, molasses, lime, bitters), and pitchers of shaken Bombay martinis. Grub ranges from old-school New England "Rarebits" (melted farmhouse cheese, Vermont bacon, crusty bread) to bar mainstays like a Wolf Neck ground beef burger, grilled maple glazed hot dogs, and "Sunday Night Gravy": house cut gnocchi, San Marzano tomatoes, lamb/pork/beef, with a Bob Costas-hosted appetizer of "Gravy Night in America".
Recommended Video
Hooters Is Opening a New Restaurant Chain That's Hiring Guys
Previous Venue
Next Venue
Venue Description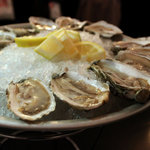 1. Marliave
10 Bosworth St , Boston, MA 02108
Marliave first made its debut in 1885, opened by a French immigrant who brought over a closely guarded cachet of Francophile recipes. It's had its ups and downs in the 13 decades since, but Marliave really is an undersung institution. Where else can you enjoy French onion soup and rarebit at the bar while savoring a drink called the Chauncey Warbucks (Baker's bourbon, absinthe, grenadine, bitters)? The first floor reeks of backroom politics gone by, while the upstairs dining space provides a charmingly anachronistic view of Downtown Crossing (you forget how little the architecture has changed here). Oh, and on those deep February nights when you cannot bear to drag your ass out the door? Marliave delivers. Rarebit in bed, baby.