Upscale Mediterranean from a formerly casual grub couple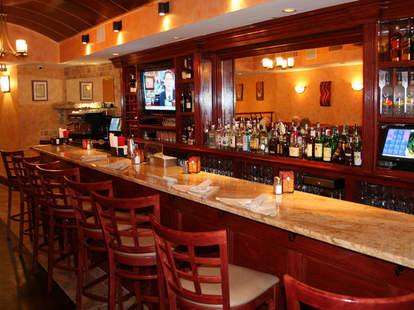 Things tend to get more complex as they age, like a bottle of fine Bordeaux, or a pungent, interesting cheese. Oh wait, how long after the sell-buy date can you drink milk? For grub from a couple of increasingly sophisticated resto vets, check out Milestone, open now.
The husband/wife duo behind legendary greasy spoon Maugus have gone upscale in the old Vidalia's Truck Stop space, opening a 110-seat Southern European trattoria featuring warm woods, stone tile, red/beige booths, a granite-top bar, and tasteful, salmon-colored walls, which unfortunately no longer sing "Take Me to the River" when you walk past. Signature surf/turf fare includes a Prosecco-sauced Baccala (salted cod) Scaloppine w/ polenta; poached halibut w/ beet terrine in a Chamomile-orange vinaigrette; and a prosciutto-topped, sage-spiced veal medallion -- also the medal awarded for 15th place at this year's Winter Games. For the carb-friendly, there's a Saffron Pappardelle w/ aromatic lamb ragout; red sauced sheep's milk ricotta ravioli w/ spinach and Chard; and pine nut/raisin-topped Chitarra with tomatoes, fresh sardines, and wild fennel -- blamed by the sardines' parents for its recent mouthy disposition.
If you'd prefer small bites/drinks before your night on the (dry) town, Milestone offers a full lineup of cocktails, cordials, and 54 wines to pair with apps like aioli-slathered beef & Portobello sliders, sherry sauced braised pork belly, and mussels w/ orange zest and a balsamic sweet & sour sauce... oh, dammit, this is supposed to be just sweet sauce?