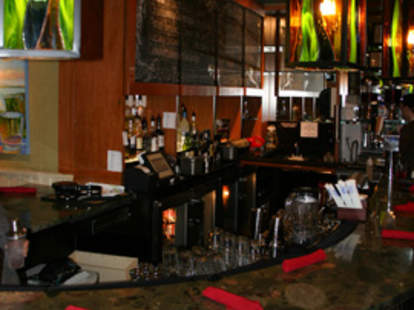 The ability to meet in the middle is important, unless, of course, you're going out to lunch with that loser Sully, cause you make that chump come to you. Taking a more flexible stance between health and comfort, Nourish, now open.
From the husband-wife owners of Tennessee's BBQ & Grill and Big Fresh Café, this hybrid organic- comfort food restaurant in the old Not Your Average Joes location touts "responsibly sourced, respectfully priced" selections of local, health-conscious grub in the form of wraps, burgers, stir fry, and pizza in an expansive 250-seat space featuring two dining rooms arrayed w/ red leather booths and dark wood tables, outdoor patio seating, artful stained glass windows, and a chalkboard menu above the green marble bar (if Mrs. Kirkpatrick isn't here in fifteen minutes, you get to leave!). Entrees include the farmland natural Memphis Ribs slow smoked for four hours and served with a cucumber salad, BBQ beans, and cornbread; a Soy/Maple Glazed Tofu-topped Pizza w/ mozzarella, caramelized onions, and butternut squash; and the Blackened Wild Alaskan Salmon doused in a spicy Creole sauce w/ coconut jasmine rice and pan-fried succotash, which contrary to popular belief, died painlessly. Other deliciousness includes a marinara sauce-covered Alaskan cod wrapped in a sun-dried tomato whole wheat tortilla; the BBQ sauce-slathered River Rock Farm Beef Burger covered w/ melted cheddar/tomato and served with mustard slaw; and maple molasses-covered tempeh w/ caramelized onions, kale, and chilled roast beets, the latest drop in a series of DJ Kay Slay/Trader Joe collabs.
If you just want to snag drinks and apps with the ladies, Nourish has a full bar w/ several organic teas, wines, and beers (Wolaver's Organic Pale Ale, etc) and serves up both healthy small plates (cauliflower, kale, and 'shroom-stuffed Phyllo Rolls) and less healthy ones like 18 count slow smoked chicken wings basted in hot sauce, because what's the point in meeting in the middle if you're just going to wing it.