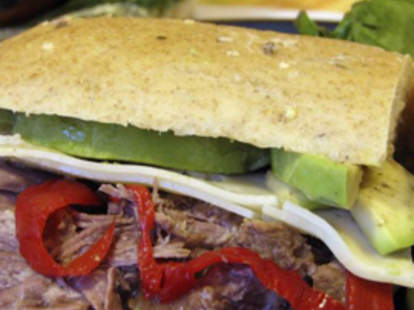 Boston's always benefitted from its relationship with the City of Squares to the east -- whether it be for creating an atmosphere of technological innovation and intellectual rigorousness in Kendall and Harvard, or creating an atmosphere of brutal honesty when you find out that homeless woman in Central still hates your outfits. Adding the benefits of another 'bridge square, Olecito.
From the same chef that brought you Inman Square's Ole Mexican Grill and its smaller, across-the-street offspring, this take-out spot in Kenmore (old Ferretti's) finally gives non-Cantabrigians the chance to enjoy their specialty tacos, tortas, burritos, and quesadillas in a familiarly-decorated bright yellow, 4-table space with a colorful chalk menu board, and a sign emblazoned with the face of a luchador, just like your lower back. Taco-wise, 'cito cooks up pineapple salsa-doused braised pork Carnitas w/ salsa verde and pickled cabbage; battered shrimp on two small corn tortillas dripped w/ chipotle mayo and cilantro pesto; and the marinated steak Arrachera spread w/ pinto beans and Jack cheese before getting sauced with avocado and passing out in the bathroom perusing an old issue of Cargo. Tortas on Telera bread include La Milpa, which is grilled portabella mushroom, zucchini, and corn piled w/ poblano chile, and Panela cheese; the braised pork and guajillo chile Yucateca topped w/ pickled onions, pinto bean spread, and avocado sauce; and the adobe marinated chicken Piolin mixed w/ chipotle mayo and a white cow's milk queso chihuahua, which quieros not being lactose intolerant.
If you demand more standard selections, embrace the delicious comfort of both the chicken/steak/pork quesadillas and the giant burritos stuffed to the hilt w/ meat or veggies, beans, Mexican rice, and guacamole -- although probably not a smart order if you ever expect to fit into those skinny jeans Delores likes so much.