Earth-friendly gear for the home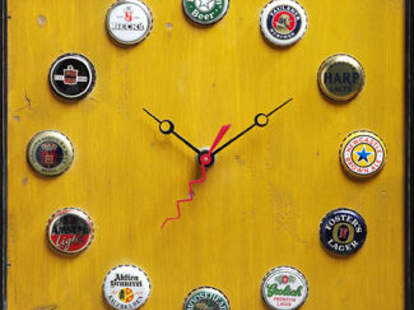 They say nothing good comes out of New Mexico, but they've obviously never seen these kickin' shrub-steppes! Or the junk turned pad-schwag from Pallet Art.
From a Burlington, VT-based woodworker who cut his teeth building cowboy furniture in New Mexico, PA's been "diverting landfill waste since 1998" by using salvaged materials to create a veritable cornucopia of crafts and household items like furniture, picture frames, and clocks/board games dressed up with beer bottle caps, so everyone can enjoy the Game of (Miller High) Life. "Whimsical" furniture/housewares include the green Fish Cabinet made from recycled lumber and decorated w/ red fish-shaped cutouts that swing in and out when the door is open; a hanging original (13 stars in a circle) American flag made from hardwood shipping pallets; and the floor-resin-finished light wood armoire chest that features barnwood dustboard panels and drawer handles made from two-inch gas pipe, which make up for their length by working out a lot and getting really aggressive when they drink. Smaller bits to spruce up your digs include Libation Time, a black-framed yellow wooden clock with bottle caps for numbers available by beer (micro-brew, import, domestic) or region (VT, CO, CA); colorful rustic wooden picture frames made from recycled scrap finished with natural wax; and a folding wooden backgammon board that dons hand-carved triangles, blue Koplow dice, and bottle-cap pieces that're rubber grommet-based, much like British humor. USA! USA!
If you've got the perfect piece in mind for your sun room, PA does tons of custom work; just shoot him an email detailing your glorious vision and he'll work it up, or tell you about his own vision of something glorious, known simply as the shrub-steppe.