Maine microbrewery hits the Hull waterfront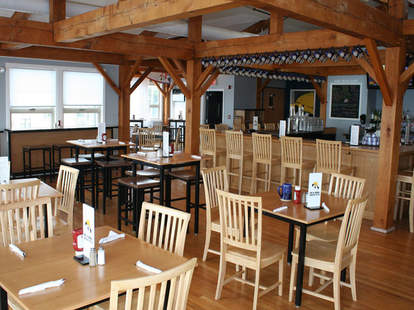 There's something exciting about moving away from home for the first time: the freedom, the privacy, the ability to procure pants with zippers, and drive cars, and not spend all your time tilling the earth. Damn, being Amish sucks. Finally moving outta Maine to fill your belly, Sea Dog Brew Pub.
From the humble owners of The Greatest Bar, SDBP's the fourth incarnation of this Down East microbrewery/pub (but the first ever outside of Maine), slingin' seafood/suds in a bright, heavily windowed 100-seat third floor waterfront space replete w/ exposed beams, a U-shaped bar densely hung w/ blue membership club mugs, and an outdoor deck sporting stunning harbor views and several metal hightops, also presumably the footwear of choice in Bill Laimbeer Combat Basketball. Fresh sea fare includes a lobster sauce'd and crab-stuffed baked haddock; fresh grilled tuna steak served with mashed potatoes/seasonal veggies; and the Sea Dog Lobster Feast that combines a pint of brew with a cup of chowda, steamed lobster, and mussels, which usually come from, rather than with, beer. There's also handheld deliciousness like golden fried whole clams stuffed Maine-style on a grilled/buttered hot dog roll and smothered with tartar sauce; a bacon & cheddar chicken sammie on a Challah roll; and a pepper jack and bacon-topped hickory BBQ burger served w/ cajun fried onion strips, which end up revealing nice bulbs. If you'd prefer to just drink in that elegant view/some beers, they've got a rotating lineup of SD microbrews/cask ales that includes the Riverdriver Hazelnut Porter, Windjammer Blonde Ale, Owls Head Light, and Old Gollywobbler Brown, also a really bad swear in the Amish community. See? That's how bad it sucks!