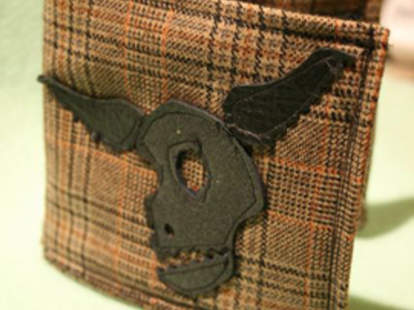 Thoreau said, "Simplify, simplify!", but he never did get around to saying what he actually did with all those sleeveless jean jackets. Providing the answer, Slop Pop.
Started as a hand-appliquéd trucker hat line from a Croatian-born MassArt grad and former bicycle messenger turned painter, musician, and stay-at-home dad, this one-man JP company has expanded into a collection of artsy couture wallets and bags made out of donated denim, vintage fabrics, recycled sneaker leather, weathered vinyl, and other rescued materials, which totally fell in love with the fireman, even though he'll never make enough to support a family in the style they'd come to expect. Wallets are cut/hand-sewn using multi-materialed styles and include a gold-stitched blue jean exterior bi-fold w/ an orange Hawaiian shirt inner lining; a thick brown/orange plaid suit fabric square bi-fold w/ a horned black leather skull adorning the front; and one model with a soft fluffy white sheepskin/pile lining exterior w/ orange/white checkered inside pockets and an x-crossed black heart stitched to the outside, to remind you that love is dead, and you'll never experience it. EVER. SP stitches up other less funky but no less interesting designs like a simply stated rectangular black leather number w/ fold over flap and an attached chain; a discreet red/black flannel plaid bi-fold w/ a white/blue "SP" patch on the denim interior; and a white pleather jobbie w/ black stitching that reads "A Slop Pop Wallet" on the front and "Testing One, Two, Three...Check One, Two" on the back, intended for wanton spenders who must check themselves before wrecking themselves.
In addition to hats/wallets, SP also cranks out grocery/beach shoulder bags; they also offer a one year warranty on every item in the collection and will even give you a discount if you cough up your old wallet as a trade in -- because sometimes, the best way to simplify is to cut your collection down to 19 velcro wallets.