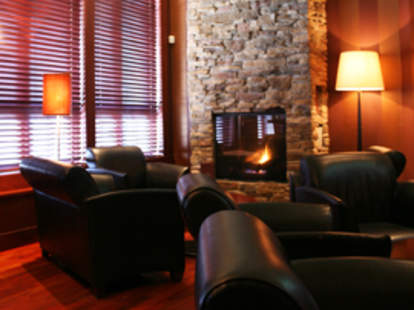 Leaving the familiar to start something new can be scary, unless, of course, you're an American Studies major. Then you're allllll set. Doing just that, Sofia Italian Steakhouse.
From an MIT grad/electrical engineer who left the comfort of a sexy job at Nokia to cut his restaurateur teeth, Sofia is an elegantly casual mahogany-heavy lunch-dinner spot that blends steak and chops with traditional Italian fare and a tapas-style bar menu in a 210-seat space with wood tables, leather booths, a separate bar/lounge replete w/ stone fireplace, and two private dining rooms, one of which has a wall painted to look like the Tuscan countryside -- so when you receive your meat too rare, you can accurately say it's Under (The Tuscan) Done. Steaks/chops include a king cut 22-ounce prime rib au jus plated w/ mac & cheese and asparagus; a Greek-spiced, double-cut 14-ounce pork chop grilled in a lemon oil sauce and served w/ lobster & corn risotto; and a grilled 12-ounce rib eye sided w/ red bliss Parmesan mashed potatoes and collard greens that would have gotten away with it had it not been for those meddling kids! Italian fare includes entrees like a Chicken Saltimbocca sautéed in Marsala wine w/ mushrooms and prosciutto; a Fra Diavolo con Carne red pizza topped w/ spicy sausage, pepperoni, and chili flakes; and lemon-pesto-drizzled sea scallops that're roasted -- first in an oven, and then much less hilariously by Roseanne Barr.
If wine and apps in the lounge is more your "thing", there's an extensive Napa-heavy 135+ wine list and small plates like the marinara-doused Eggplant Rollatini, and Calamari Fritti w/ banana peppers and a creamy caper aioli; they've also got a special opening half price Monday/Tuesday promotion, a fantastic time to study Americans getting twice as fat.