Spicy Super Bowl Snackdown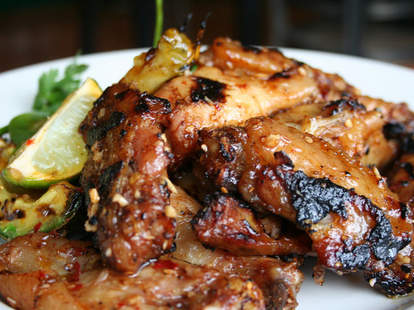 Belichick may've made a calculated decision to skip this year's Super Bowl, but that doesn't mean you can't shorten your lifespan with fatty food/drinks. To get you there, we drafted two of Boston's culinary Pro Bowlers to draw up a few food and drink recipes so easy, even Joey Galloway couldn't screw them up by dropping them at a crucial point early in the season.
Smoked Asian Style Baby Back Ribs from HellChris Schlesinger, East Coast Grill Because real men grill stuff in the snow, the BBQ specialists at the 25-year Inman Square institution have ripped a page outta their Hell Night playbook, grilling up ribs so spicy you'll want to secretly enjoy them on the couch by yourself, but just for a few seconds at a time when the fuzz subsides. I want my baby back, baby back, baby back...
Grilled Chicken Wings with Chipotle, Cilantro, and LimeChris Schlesinger, East Coast Grill If you're less of an "atomic" and more of a "medium" kinda guy, ECG's yanked the chili peppers off these wings and replaced them with a mere 10 shots of Tabasco, indicating they may not be all that clear on the definition of "medium". If Wes Welker made these wings -- 11 shots of Tabasco, and that's just to start
Post Route HighballJackson Cannon, Eastern Standard To complement that burning sensation in your...mouth, ES's master mixologist shrewdly recognizes you've got to turn to tequila, splashed with hot sauce, and topped with a can of 'gannsett -- or, as they call it in Rhode Island, something you couldn't understand through that accent. Numb the pain from watching Peyton in another SB