Cycling wear for the everyman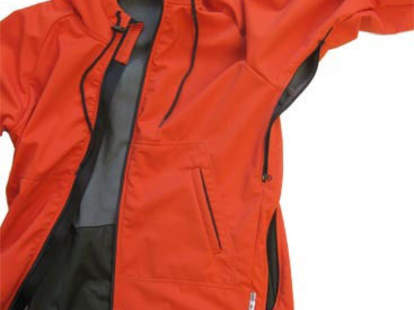 They say don't dress for who you are but rather who you want to be, which is pretty crazy, cause chupacabra go naked! Since cyclists are kinder to the livestock/eyes, Swrve Clothing.
Born from an aversion to spandex, these athletic clothing aficionados continue to live by a "form follows function" mantra as they drop their latest collection of stylish urban cycling apparel stitched with clean/simple lines and sprinkled with "a dash of elegance and a dash of street", like a Rasheed Wallace wedding toast. Up top there's the trim fit sky blue bamboo jersey Hiding Hoodie w/ extra long raglan sleeves and front kangaroo pocket; the 100% Kiwi merino wool knit base layer tee w/ long tail hem and seam-free armpits; and the improved water-proof softshell signature Milwaukee ES Hoodie in one of four colors (black, red, grey, navy) that's equipped w/ double cuffs for added wind protection and a high front hem to prevent bunching -- so the only thing you have to worry about is your panties. From the waist down, SC sports a pair of limited edition light grey Japanese denim jeans with articulated knees, reflective stripe, and a back pocket that fits a mini-U lock; the new formal mid-weight nylon Water + Wind Resistant Trousers for cycling to/wearing at the office replete w/ two pen pockets; and special edition trim fit, black denim jeans with a cell phone pocket, seamless gusseted crotch, and a waxed cotton feel, which you've always appreciated on your seamless gusseted crotches.
Because riding through a Boston January is cold (and dark), there're also accessories like a royal blue four-panel wool flannel cap, 12-inch black striped merino/lycra insulating socks, and a nylon webbing-reinforced 9.5-inch key loop ring constructed from a reflective road sign that's been re-purposed, unlike the chupacabra, who only has one purpose: being naked. Because it can't find anything to wear with its red eyes and goats blood.