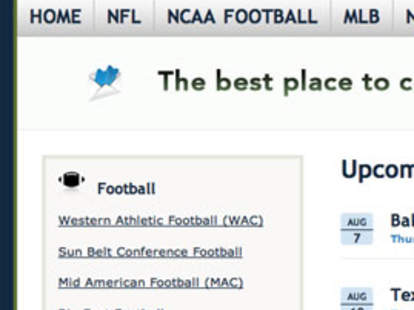 Aggregator services have sprung up to facilitate many of life's most pressing needs -- Kayak rounds up the sweetest travel deals, adultfriendfinder rounds up the sweetest adult friends -- but what good's world traveling and having sex when you can't see the PawSox? Complete yourself, with TicketStumbler.
Based in Boston, TS is a sports-ticket search engine and comparison site, created by a financial analyst and a former Afghanistan-based soldier who worked in Psy-Ops and on the military's super-secret Intranet, Prodigy 3.0 (now with 2400 baud dial-up!). So you know you're getting the best shake, they're relentlessly hammering out partnerships with the largest sports-ticket marketers and brokers, including StubHub, RazorGator, Ticket City, Ticket Network, and the leviathan that is...Barry's Tickets. The site currently supports major pro (NFL, NBA, MLB) and college (basketball and football) sports, plus regional affairs like the National Hockey League (or as it's known colloquially, "Canadian Friend Finder").
Down the Road, TS plans to add more sports, vendors, and stadium maps, plus concerts and theater events; they'll also expand coverage to California, so you'll have something to do during the 6hr layover some sweet travel aggregator scored you at LAX.