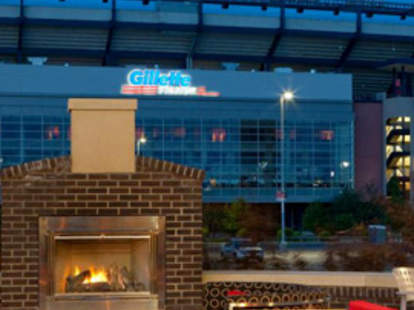 Watching the game lounged out on a couch by the fireplace is cool, but screw the game: what if you could watch the stadium from the luxury of a couch/fireplace? That'd melt your mind, right? Well, allow the melting to begin at Twenty8 Food & Spirits.
Continuing the Kraft dream of an ever-expanding Patriot Place, this trendified restaurant/bar serves up American meat/seafood entrees and stone oven-baked lighter fare in a chic, mod-styled 100-guest space equipped with a 60-foot bar, red/black/white zebra patterned chairs, a 12-seat private dining room, and a loungy couch-laden outdoor patio w/ brick fireplace that overlooks Gillette Stadium, and the shifty criminals who'll give you a very special price to enter it. Meaty entrees include the 12oz New York Strip sauced w/ a caramelized three onion butter w/ sautéed broccoli rabe and polenta fries; an 8oz filet mignon simmered in a beef/red wine reduction with crisp potato cakes; and the Neiman Ranch Spice Rubbed Pork Chop w/ a smoked paprika aioli, which is total BS -- that dude in the Common promised it was weed! From the depths of the sea, T8 cooks up a veggie-encrusted Crisp Bay of Fundy Salmon dripped w/ a Merlot reduction; Prosciutto-wrapped jumbo shrimp stuffed w/ goat cheese and baked in a stone hearth oven; and a creamy macaroni and cheese mixed w/ fresh Maine lobster and white truffle oil, which you need to change every 3,000 miles to prevent fungiscosity breakdown.
For post-game victory drinks on the patio, T8 offers beer and wine, as well as new signature cocktails like La Paloma (tequila, grapefruit, and Sierra Mist), a cilantro gimlet (vodka w/ muddled cilantro and lime), and raspberry vodka blended w/ Lemoncello and cranberry juice, called the Foxipolitan -- order one on the couch, by the fireplace, and watch your manhood instantly melt.