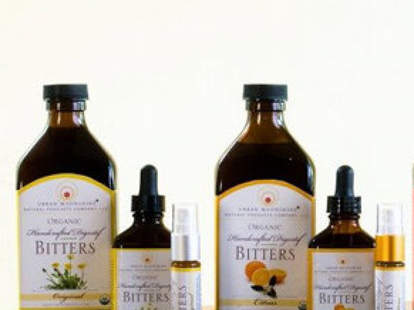 Reviving old traditions can be fun and impressive -- who knew Grandma could still put that kind of heat on a witch-pummelin' stone? For an old tradition without the entertaining show trial, check out Urban Moonshine.
Operating out of their Burlington, Vermont "distillery", these modern day, new age moonshiners/herbal medicine specialists are reviving a lost tradition of "dazzling the palate while priming digestion" with a new line of carefully formulated, handcrafted organic bitters and tonics designed to improve both your health and your cocktails, and that use "organically grown or ethically wild-crafted herbs", which, unlike your ethically wild Uncle Herb, would never buy a company just to sell its workers' organs. Bitters to soothe the stomach come in three sizes (10ml spray, 2oz dropper, 8.4oz bottle) and include the Original Organic, which combines seven types of roots with fennel seeds/gum Arabic/essential oils, and goes nicely with a rye whiskey; the quintessentially Vermont Maple, whose hints of sweetness from locally procured maple syrup match up well with smoky bourbons; and the exotic, full-bodied Citrus that goes smoothly with vodka or gin and blends orange peel, fresh squeezed lime, and blood oranges, which, despite Leo's best efforts, are still harvested illegally in some oppressed Florida orchards. UM also handcrafts healthful tonics to help you recover from what you did with their bitters, like Immunity Zoom, which boosts your immune system and helps ward off illness/allergies with a mix of roots (licorice, astragalus) berries (Schizandra) and mushrooms (red reishi, maitake); Longevity (flowers and bark steeped in an organic Vermont apple brandy aimed at building strength and endurance), and Chocolate Love -- an herbal aphrodisiac designed to enhance sexual vitality made up of chocolate powder, damiana leaf, raw honey, and hawthorn berry, which is tiny, red, and full of Puritanically-inspired moral allegories.
Unlike their 19th century Appalachian counterparts, UM is focused more on flavors to satisfy the palate and plan to unveil several new bitter tastes including breakfast favorites like coffee, although they in no way compare to the bitter taste left by Grandma's "Witches End up in Ditches" tee.