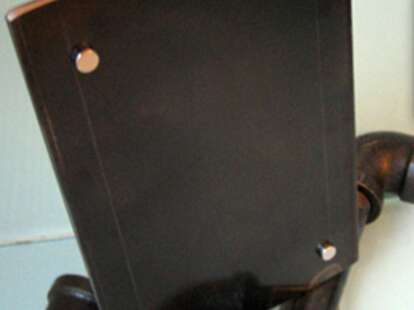 Just when you think you've got the measure of someone they up and surprise you: Grant Hill plays a sick game of b-ball and the piano, while Gary Busey plays a convincing psycho and is a convincing psycho. To enjoy the fruits of a man's secondary skill, Mean & Wroughten.
From the owner of a Portland, ME hair salon, who also happens to be an expert welder and used to build merchandising displays, M&W fabricates heavy-duty steel picture frames attached to brawny vintage and recycled metal objects like axes, pliers, pipes, pulleys, golf irons, and horseshoes, along with crafting a limited selection of sturdy steel/aluminum cribbage sets -- and, frankly, it don't get more manlier. Prime frame examples include the "Curved Railroad Track", a flat rectangular piece of steel attached to a rounded section of a three-rail Lionel model railroad track; a 4x6" horizontal metal frame joined to a vintage workbench clamp base that uses four strong magnets to affix the picture; and the "Golf Iron", a black vertical steel plate connected to a Wilson Sam Snead 100 3-iron club head (only liked Zeppelin until discovering DJ Shadow sophomore year). Cribbage sets include a once-around board constructed from a thin sheet of steel mounted on four shorts legs and accompanied by black and silver drill bit pegs; a brushed metal twice-around aluminum rectangular box-shaped board w/ silver/gold colored pegs; and a circular open-in-the-center set with an old S-curved wrench mounted across the middle, handy for knocking out your grandfather after your third consecutive skunking.
M&W also builds a small series of clocks, as well as other custom welded art pieces on commission; all you have to do is drop him a line and tell him what you're thinking -- unless you're Gary Busey, in which case, he doesn't want to know.