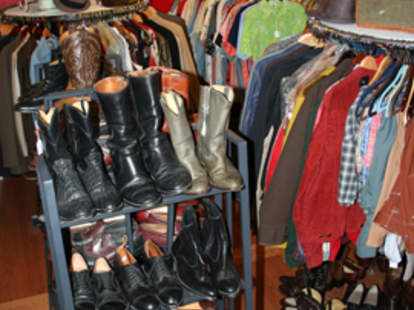 The Salvation Army may be a godsend for getting rid of your unwanted crap but no benevolent god would ever send you there when you've got 45 min to find a 1930s style swimsuit for your GF's friend's "Marco Polio" pool party, which you're totally pumped for! Skip the crap, with Vintage Revenge.
Looking for a change of scenery from Big Sky country, the owner of VR recently relocated her store from Bozeman, MT, bringing with her 16,000 lbs of well-curated, non-thrift-store vintage men's/women's threads dating from the late-1800s to the 1980s (including wool suits, seersucker jackets, plaid poly pants, Hawaiian and Western button downs, suede fedoras, etc), setting up shop in this packed space painted red/white and decorated with old hard-case luggage and a puppy mascot Great Dane, which is unfortunately not named Hans Christian Anderson. Above the waist, VR stocks a mish-mash of shirts ranging from a 70s brown/beige/white patterned Joel's California button down w/ spread collar to a green/yellow/white Bart cloth Hawaiian w/ front breast pocket by Hawaii Island Fashions, to a rugged, Champion Western light blue floral cowboy long sleeve w/ pearl snaps, which falls right in between the chapter on "yo momma" and "poor people". For a classier upgrade they've also got suits and jackets (generally spanning the 40s-80s) including a 40s era "Garbardine" suit with medium-width lapels; several original Member's Only jackets; and a classic brown pinstriped wool two-button from Hickey Freeman -- whose given name was "I Swear to God I Got the Vacuum Stuck Against My Neck Again Freeman" until he decided to just come clean.
VR doesn't skimp on accessories rocking a solid collection of old mint condition hats including a Cappello handmade cashmere Italian fedora, as well as a continuously replenishing supply of Tony Lamas and Dan Post leather and lizard skin cowboy boots, so you'll know exactly what to buy for the big "Wild Wild Vests" soiree in the fall.