From the folks behind Atlantic Beer Garden, TWP's the Seaport's newest upscale Irish waterfront watering hole (formerly Seaport Bar & Grille) providing not only scenic harbor views, but hearty Celtic fare like slow braised lamb shanks w/ sour cream, and Oyster & Wild Mushroom Stew, to accompany a crazy diverse selection of over 100 whiskeys (Eagle Rare, Finian's Five Provinces, George Dickel), and over 80 draught/bottled beers like the dangerously over-proofed one-per-customer Goose Island Stout and an IPA from Stone Cat (I CAN HAZ ROCKZ?).
Recommended Video
Cigarettes Are Bad, so Make This Smoked Rosemary Oil Dirty Martini Instead
Previous Venue
Next Venue
Venue Description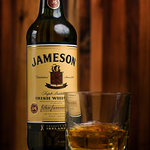 1. The Whiskey Priest
150 Northern Ave, Boston, MA 02210
Right next to sister spot Atlantic Beer Garden, The Whiskey Priest takes the Irish pub scene to the waterfront with a roof patio and harbor views. While ABG is all about beer, TWP puts liquor first. There's a huge selection of whiskey (try one of the flights), but there's also more than 65 brews, including 35 drafts. As for food, expect Irish-accented fare (cheese fries with Irish bacon, corned beef sandwiches) as well as classic bar food (buffalo chicken sliders, tater tots).