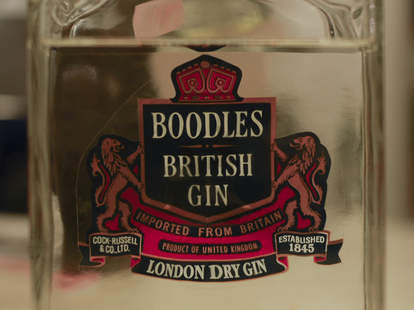 Boodles
Year founded: 1845
Location: Warrington, England
Owner: Proximo Spirits
Widely available? Yes
Boodles Gin derives its name from a posh gentleman's club in London known for its powerful political members. Unlike most gins, Boodles does not include citrus among its botanicals. Instead, distillers infuse the gin with ingredients like nutmeg, sage and rosemary. Though the brand was first produced by British company Cock Russel & Company and is currently distilled at Greenall's Distillery in Warrington, England, Boodles was hard to find in the U.K. after Pernod Ricard bought control of the company from Seagram's in 2001. Luckily for Englanders, the brand returned to British shelves in 2012 when Boodles was bought by Proximo Spirits.
Trivia: The Boodle's Club, for which the gin brand is named, was named for the club's head waiter, Edward Boodle.
In Pop Culture: The brand was a favorite of some of the Boodle's Club's most famous members: Winston Churchill and Ian Fleming.
Brand products