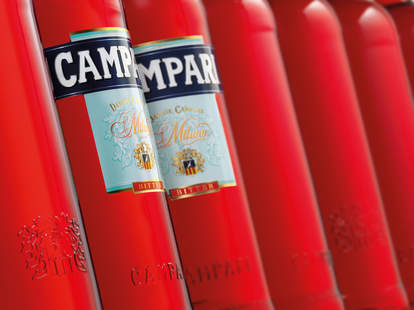 Campari
Year founded: 1860
Location: Sesto San Giovanni, Italy
Owner: Gruppo Campari
Widely available? Yes
Like the recipes behind some other European liqueurs, Campari's mixture of herbs, fruits and aromatics is a closely guarded secret. Gaspare Campari first created Rosa Campari in 1860, as well as the oldest cocktail to utilize the liqueur, the Milano-Torino (later renamed the Americano). While bitter liqueurs were already commonly used as digestifs after a meal, Campari helped popularize bitters as pre-meal appetite stimulators, or aperitifs. The brand is also responsible for producing the first premixed drink, the Campari Soda, in the 1930s.
Trivia: Beginning with its first poster in the 1880s, Campari commissioned a number of illustrated ads by famous Italian artists, including futurist Fortunato Depero, that have become famous beyond the liqueur brand. Some of the works are featured in the Galleria Campari in Sesto San Giovanni.
In Pop Culture: Actors like David Niven and Humphrey Bogart appeared in Campari ads in the 1950s.
At the bar: Campari is an essential ingredient of several of the world's most famous cocktails, including the Negroni and Americano.
Products
Campari
Campari Orange Passion
Campari Soda