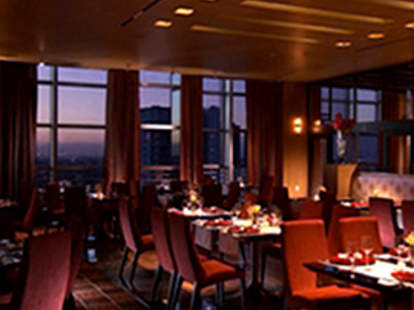 Change can be good, whether it's a newly hired football coach who positively adjusts the culture of a whole team, or your underwear. Seriously, you're gross. For an elevated resto making moves, check out Atrio.
On the 25th floor of the Conrad Hotel and boasting views of the sunset over Brickell, Atrio once plated fusion fare, but next week is re-launching with a new concept and menu focusing on locally-sourced, sustainable grub chef'd up by a UK dude who's worked at a handful of Michelin-starred spots, and cooked at events for the Queen of England, G.W. Bush, Obama, and musical luminaries like Kid Rock and Kanye West, who said he'd let him finish, but Beyonce had one of the best rump roasts of all time. Though it pulls as locally as possible, the menu takes Continental, American and even English angles, with starters like crab salad w/ pink grapefruit, arugula, & citrus mojo; pan-fried foie gras w/ cinnamon French toast & caramelized apples; Shrimp Mojito w/ charred pineapple & toasted coconut; and chorizo & egg w/ forest 'shrooms, potato hash, and other disappointingly non-drug foods. Entrees emphasize local swimmers, from grilled swordfish with a Basque-style pepper/onion/tomato pipérade, to beer-battered fried grouper with big fries, while terra firma meats include slow-roasted pork belly w/ baked beans; the chef's truffled meat loaf; and Angus Tournedos (filets) and foie gras w/ grapes steeped in Madeira, a fortified wine (part of this complete breakfast).
Atrio also has a bottle-festooned private wine room, with a big hardwood banquet table, which you can reserve for chef's dinners or tastings like "Discovering Burgundy" and "New World vs. Old World". And starting in October they'll be bettering Miami Spice with a $32 prix fixe (including a gratis glass of vino), the menu changing every month, throwing down a heavy gauntlet to you and your underoos.