An eclectic lounge with upscale drinks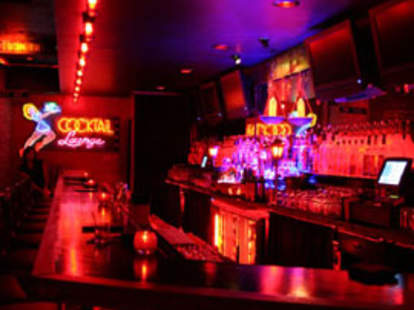 When it comes to bars, certain themes are well-worn territory -- the Prohibition speakeasy, the Polynesian lounge, the produce section of your local Whole Foods... Upping the ante on high-concept bingeing, The Bridge.
Started by the Lucy's 51 guy and unexpectedly holed up in a Universal City stripmall, TB's an upscale drinker's lounge billing itself as a "Vegas nightclub under a NY bridge" -- an epically random conceit sure to elicit zero comments of "Another one?". Walk through the unmarked door, and you'll find 1250 sq ft of pleasingly mixed messages: brick walls and steel trusses (for the NYC warehouse effect), subdued red and blue lighting and a neon cocktail waitress sign (for vintage Vegas "class"), and an antique Harpsichord (for Mozart?). Bartending focuses on martinis and tequila: 23 of the former including some oddball rum-based varieties, and 50 of the latter, ranging from standbys (Patron Silver) to rarities (La Cofradia Iguanas Reposado) to what-the-hells like Tommy Gun -- which, like the weapon its bottle is modeled after, can deliver 15 shots a second, and kill you.
Dress code's reasonable but strictly enforced: no hoodies, baseball caps, shorts, or sandals -- obviously, even The Bridge has tired of bars themed after "people without jobs".