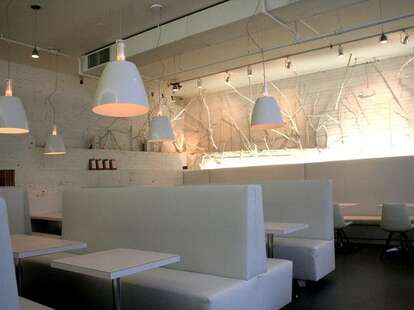 Success requires risk, whether it's trying out for football despite being "too small", or taking over the world using only tiny plastic armies. For a Japanese spot putting it all out there, hit up 1 or 8, opening sometime next week.
Dishing out classic Japanese with enough twists that the veteran sushi team believed the name -- a translation of a gambling idiom meaning "all or nothing" -- embodied the chances they were taking in the kitchen, 1 or 8's set up in a starkly heaven-esque dining room with a forest of white painted trees, whitewashed brick walls, white high-backed leather booths & bucket seats, white tables, and white hanging lights (when it's time to leave, ask for your Bill Almighty). The adventure starts with sakizukes (snacks traditionally paired w/ the first sake order) like hijiki seaweed w/ cream cheese paste, and burdock root & carrot w/ sweet soy, then moves to ceviches of octopus with grapes/yam/vinegar jelly, and terrines from monkfish liver/grilled peach to rib-eye/onion/shiitake/egg; cooked mains include a chicken pot-au-feu (chicken/pork sausage/kombu broth/red pepper paste), Pork Belly Two Ways (a la plancha and cutlet), and something called "Flap Steak", a great new nickname for a body part you long to know better. Raw-wise, seasonal offerings abet a sushi menu that includes three kinds of tuna, bi-coastal salmon, sea bream, and sea urchin, while original concepts run from a salmon job w/ mozzarella/sun dried tomato/basil, to the Mushroom Tuna w/ red pepper & asparagus, to the meatless, tempura Vege-ten, though a true ten requires something more than vege.
To up your own risk taking there's beer & wine, a 30-strong sake list, and a bevy of original cocktails, from the rum/lime/brown sugar/shiso/yuzu juice "Shiso Mojito", to the sesame shochu/soy milk/white sesame "Goma Shake" -- drink too much of either, and you'll have to tell someone "SOOOORRRRRY!".