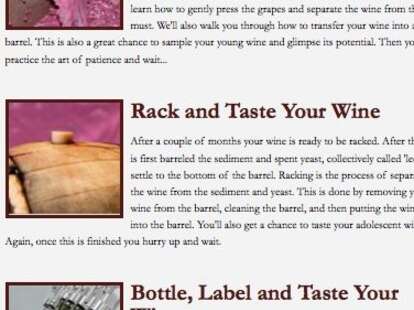 When undertaking a highly specialized endeavor for the first time, it's best to have a guide who can keep you from doing a sloppy job, even if the goal of said project is to get you sloppy. For a winery that'll help you make your own, check out Brooklyn Winery, now accepting reservations
From a pair of vino enthusiasts who fell in love with the wine-making experience but couldn't stand the hassle of constantly heading out of the city to partake in it, BK's a true oenophile's wet dream -- a massive former nightclub that's being stocked with wine making equipment & a head winemaker to assist amateurs who want to stick their nose in the process of making something they can stick their nose in to.
From "crushing the grapes to bottling the wine", customers'll be lead through the whole shebang, starting with a pre-harvest tasting of the upcoming seasons varietals, including "complex, robust" Cali/NY Cabernet Sauvignon, and Chardonnay, which can produce everything from a bright & crisp profile that "tips its hat to the old world", to the "butter and oak" flavors typical of the California style, whose other bouquet notes include budget crises and obnoxiously consistent weather.
Over the following months, clients will do everything from sort, de-stem and crush their fruit, to barrel their mixture in oak, to fill/cork/cap the bottles and slap 'em with a label, which, after all the time you've spent with your wine, better be more than "it's complicated"
Once everything's complete it's time to party at the post-bottling event, where you can taste the other amateur vintners product, compare it to your own, and even swap, another process that usually benefits from having a very experienced guide.