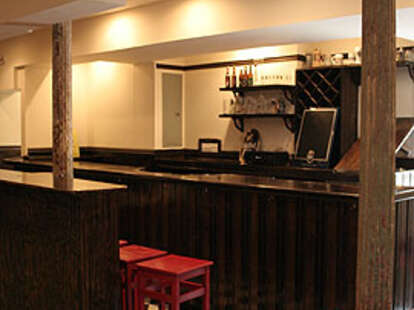 Great dreams are often diluted by compromise, until all that's left is something that barely resembles the original vision, and somehow stars Thomas Jane. Opening as a German beer garden and nothing but a German beer garden, Der Schwarze Kolner.
From an Englishman raised in Cologne, SK's a sunlit, window-wrapped corner den made friendly with communal tables, the occasional Teutonic knick knack (oak barrels, vintage bar signs), and a small bar pouring 18 bottles and 25 draughts of German suds only, no exceptions -- the perfect set-up for a brew-genics joke you won't find here, you racist. Styles range from light pilsners (Radeberger, Wurzburger Hofbrau), to medium bodied dobbelbocks (Weltenburger Kloster), to pale and dark lagers (Gosser, Jever), but the real draw's the kolsches (light and fruity Fruh, heavier Reissdorf, bready Gaffel) all served in traditional tall thin glasses known as Stange (pole) or half-height glasses called StoBche -- Cologne dialect for "little push", though given how many little pushes you'd need, you're better off getting some Stange. Since man drinks best when man is nourished, SK's also serving cold kitchen dishes of old school German grub, including sliced sausage and cheese platters, pickles, and pretzels from Bavaria -- the only modern state which never joined the medieval trade association The Hanseatic League, choosing instead to go Hanse solo.
Within a few months, SK plans to also start serving hot schnitzel -- so in a way, they too will be starring Thomas Jane.