Set up with rustic wood panels on the ceiling, Edison bulb lighting, a handmade kayak floating over a brown lacquered bar, and large paneled windows, this no-frills watering hole features seasonal local brews (Kelso, Old Yankee, Six Point...) and three kinds of ice for daily-rotating cocktails running from turn-of-the-century classics, to tikis, to house spesh's like the Catalan Daisy (Cointreau/gin/lemon/housemade Demerera syrup/Vichy water) and the Lillet Rouge/Cognac/orange blossom water/honey "Signor Spielbergo", noted for his breakaway hit Jalisco Park.
Recommended Video
This Whiskey Jam Fizz Is Literally Your New Jam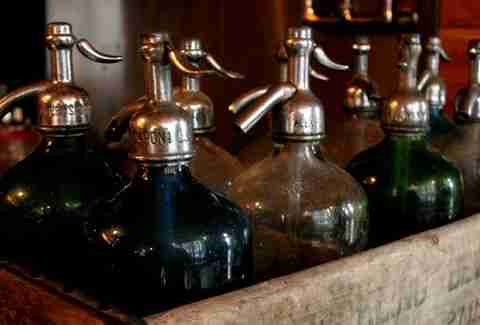 Previous Venue
Next Venue
Venue Description
1. Dram
177 S 4th St, Brooklyn, NY 11211
South Williamsburg's Dram has become a local beacon for mixology-forward cocktails, with sipping menus changing based on the discretion of an experienced stable of bartenders scalped from leading bars. A restrained list of house specialties are unified by their integration of exotic or unexpected ingredients: a 'Born Toulouse' combines aged cognac with reposado tequila, Genepy (a European wormwood liqueur) and sweet vermouth stirred with a salt rim. Still, options are unlimited when one simply opts for the bartender's choice—here, you won't be led astray. The bar can become crowded during prime drinking hours, it should be known, as the venue has broad appeal: those not intrigued by cocktails (philistines) are sated by some eight mostly-American craft beers on tap, and a Euro-centric wine list. Surrounded by so much wood-panelling in the sleek and modestly sized bar, you might feel like you're in a booze barrel yourself, and that's okay.