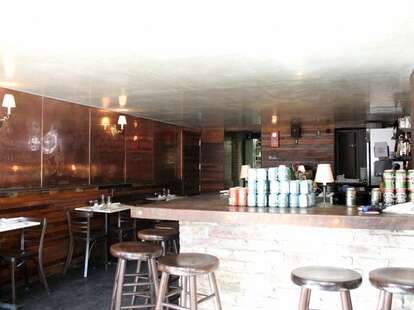 When following up an idea that brought you success, it's tempting to use your creativity and branch out into uncharted territory, and even more tempting to do it exactly the same and rake in buttloads of cash. Just ask Tyler Perry. Taking both roads at once, the soon-to-open Fatty 'Cue.
Going low-and-slow on a mind-bending menu mashing up all-American barbecue with the Malaysian flavors that brought him notoriety, 'Cue's a very long awaited offering from the dude behind the belt-busting Fatty Crab empire, set up in a tri-level getup with variously weathered/exposed brick walls, a warm weather patio, a centrally located wrap-around stone & brick bar, and art from vintage-ish road signs to a chandelier shaped like a pig, which appropriately will shed light on how big of one you are. Co-helmed by Hill Country's original pitmaster, meaty mains include pork spare ribs rubbed with smoked fish/palm syrup and Indonesian long pepper; a half chicken topped w/ a red onion/chili/cucumber relish; coriander bacon with bone broth, curry leaves, and pickled chilies; DIY Wagyu brisket bao buns w/ chili jam, onion, and aioli; and lamb shoulder, stuffed in a housemade pita and topped with garlic, mint, and goat yogurt, a sandwich condiment you've got to goatsee to believe. Sides are completely non-traditional, from Nasi Ulam (Tamaki rice w/ turmeric and ginger), to cucumbers in smoked chili & brown rice vinegar, to smoked eggplant w/ salted anchovy, green mango, and fried pork rinds, to a bowl of noodles with meat juices/scallion/chili; there's even a 'Cue crudite, whose component raw, blanched, and charred veggies are alleged to promote "rapid transit"...as if rich BBQ wasn't already on the case.
Because booze is freaking awesome, house drinks include a Goslings Dark & Stormy, the tequila/chili-infused Canton/watermelon/lime Chupacabra, and an Aperol/yuzu/Prosecco/mezcal/smoked grapefruit job called the Foreplay, uncharted territory that, if you branched out into it, might help you rake in buttloads.