You don't need to listen to Andrew W.K. to realize that serious partying is no game...unless you're playing dizzy bat or something, in which case it actually is, but whatever, you get the idea. For a joint stripping down to the bare bar necessities: Lady Jay's. From a group of chefs/contractors (headlined by Sam Mason) grown weary of industry pretensions, LJ's a neighborhood hang dedicated to no-frills, straight-ahead boozin, with walls decked with Southern accoutrement from a painting of a Native American, to empty jars, to an American Flag, to a mounted set of steer horns -- weird, as you'd think anyone in the drivers seat would want to be doing the mounting. Past the wooden booths and vintage Shuffle Bowling machine's a dimly-lit bar made from reclaimed 100-yr-old Virginian wood, fronting an enormous, ornate, gold-framed mirror purchased on Craigslist; further back's a mulling space rocking a country/blues/soul jukebox, leading to the crown jewel: a spacious, bench-lined deck surrounded by a high wooden fence, sure to make good neighbors with everyone but Community Board 1. Hooch is expectedly no-nonsense, from occasionally-seasonal draughts like Coney Island White & Goose Island IPA, to bottles of High Life, Anchor Steam, and Newcastle, to Lions Head/Milwaukee's Best cans and PBR Tall Boys; ditching specialty cocktails, the fully-stocked bar's highlighted by scotches & whiskeys, including Buffalo Trace's White Dog Moonshine, though how do you expect him to get a tan when he's always under the house with a hangover? Future plans include adding dart boards and a pool table to the garden, which'll also host blowout BBQ's, crab/crawfish boils, and live music performances, one of which'll hopefully be Ice T, cause there isn't a game that dude doesn't know how to survive.
Recommended Video
This Outdoor Food Hall Serves Up All Things Deliciously Asian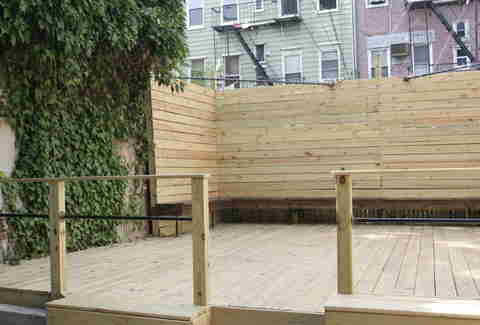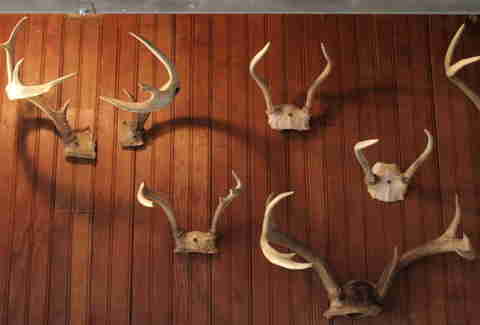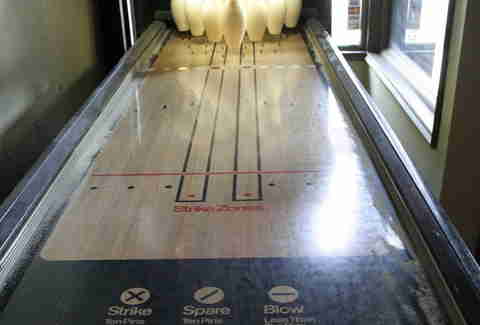 Previous Venue
Next Venue
Venue Description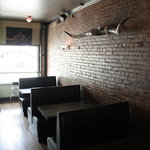 1. Lady Jay's
633 Grand St, Brooklyn, NY 11211
No frills, no nonsense - Lady Jay's is a joint that strips a bar down to its bare necessities. LJ's a neighborhood spot dedicated to straight-ahead boozin', decorating its walls with Native American paintings, an American flag, and a pair of mounted steer horns. If you're looking for fancy cocktails, take your business elsewhere, 'cause Lady Jay's is all about seasonal draughts, PBR tallboys, and the highest quality whiskeys.