Saturday night from 6-9p, Salvagetti's hosting a roving show of hard-to-find bikes and accessories: the latter by the leather saddle-makers at Brooks England, and two-wheelers from Finland/ England/ Japan/ Germany, including mini bikes from B_ant, so expect to see little kids stepping on them for no reason at all.
Recommended Video
Design Your Own Desserts at This Futuristic Cafe
Previous Venue
Next Venue
Venue Description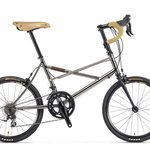 1. Salvagetti
3800 Irving St, Denver, CO 80211
Believing that you can get a quality product plus solid bike-advice without the fuss, Salvagetti set up shop on Irving and is bringing you a wide selection bi-pedal contraptions, ranging from new and used.