A standout not-just-coffee spot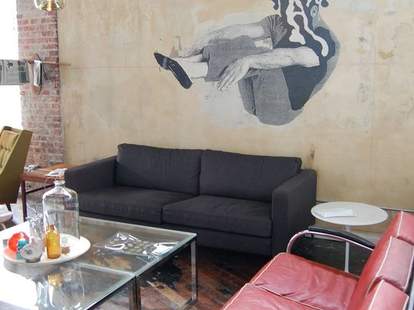 The sweetest kids' clubhouses let you do all the good stuff in them, like escape parents' watchful eyes, strapping m-80s to GI Joes, and letting absolutely no girls in under any circumstances...wait, clubhouses are the worst. For a joint from a dude combining all the things he loves into a sweet coffee hang: Arabica Lounge.
Opened by a former Miami art director/food photographer, this caffeine/snack shop melds his favorite things -- eating, drinking, art, and hanging out -- in one high-ceilinged, white/stone-walled space outfitted with lounge-y mismatched furniture, local art, and eclectic touches like antique apothecary supplies and a working Lego phone, which you can hopefully use to call them, and alert them that the hospital set totally sucks. Not-liquid options start with house plates like bread-sided Dukkah w/ roasted nuts, spices & olive oil, the Macedonia (a halved orange w/ mint leaves & seasonal berries), and a rolled phyllo dough/almond creation called a 1550 Joint, which someone must have been smoking that year to elect Pope Julius III over Paul III's grandson...c'mon! Other edibles range from thick-cut toast spread w/ brie, walnut & honey, to soups (eg, blended bulgar wheat & sundried tomato), to sandwiches like the salami w/ cream cheese & onion jam, the Italian-style prosciutto, salami, brie & blueberries, and one made with Black Forrest Ham, also what a lot of people called the dude who played Bubba.
Potables include coffees and espressos from local standby Stumptown and a two-person decanter-style table-top drip service; there's also local vino, as well as NW brews like Old Rasputin from North Coast and Elysian's Jasmine, who'd better stay out of the clubho....argggghh, cooties!!!