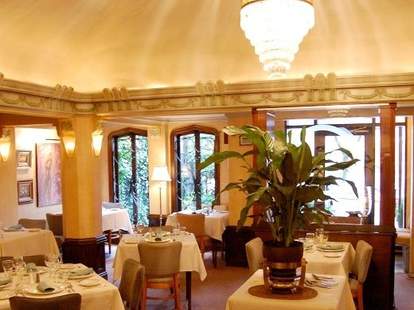 Everyone these days wants to be old-school, except for the people that're actually just old, and grew up before irony, forever ruining any chance they'll join your adult kickball league. Harkening back to those pre-ironic days, Beam's.
Now open in the former Rustica space by an ex-Vegas strip motelier/London restaurant vet, Beam's is a cozily-lit, domed-ceiling straight-shootin' steak/seafoodery w/ a quirkily old-world decor that includes a crystal chandelier, filigree-style woodwork, and an eclectic collection of gold framed paintings -- giving it a vibe that's so back in time, Huey Lewis would make a song about it and name it "Back in Time". The mostly a la carte, straightforward menu's built around mains like lightly seared scallops, an herb roasted pork loin, stilton/light pastry spinach and mushroom en croute; there's also beef like the roast medallions/red wine sauced Alicja, as well as a filet and rib eye meat slabs, served with either herb butter, Bordelaise, or Bearnaise, which falls just behind man-aise on the list of disturbing mammalian condiments. Other tastiness includes apps (pork country pate, grilled mushrooms, crab cakes), soups (seafood chowder, beef w/ mushroom dumplings, etc), salads (warm hearts of romaine w/ Parmesan), and sides like oven roasted taters and baked corn, prepared fresh every afternoon about 20 minutes after 4.
Beam's also got sweets like Chocolate Truffle Cake, Souffle Cheese Cake and an Apple Tart, and serves a full beer/wine/cocktail menu with a focus on classic after dinner drinks "so if you want some fruity or fizzy thing, go somewhere else", and while you're at it, do it barefoot uphill both ways!