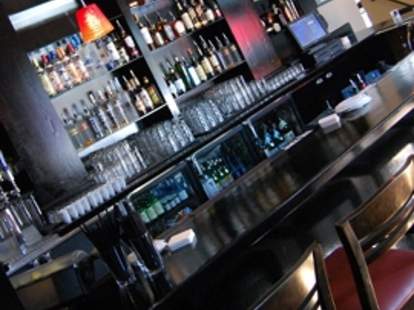 Great friendships are built upon an appreciation for differences, at least until the need for a donated kidney arises. Still processing their own waste -- and complementing each other's varied tastes -- the guys behind Chao Bistro + Bar.
An inviting corner bistro with dark woodwork, high-backed booths and flat-panels showing sports by day and eccentric pop-art by night, Chao dishes up both pan-Asian cuisine and Eastern-tweaked American grub, a roundly stomach-satisfying decision by the owners, a Korean guy and a not-Korean guy who've been best friends since middle school, when all there was to eat was Totino's. All-day fare includes sandwiches like a toasted meatball hoagie smothered in banana BBQ sauce and the crab/citrus aioli "C.L.T.", as well as sushi rolls like the tempura-fried salmon/cream cheese/avocado "Seattle", the tempura shrimp/red pepper/mango "Sunset", and a fried, habanero-topped spicy tuna/jalapeno/eel job called the "Flaming Dave" -- a frequent variation on the "Super Dave". Evening-time entrees include miso cream fettuccine, slow-cooked banana BBQ sauce baby-back ribs, and a whole fried salt & pepper chicken w/ pickled daikon; small plates run from corn roasted w/ chipotle honey & Beechers cheese to a spicy, tuna- or salmon- wrapped Crab Cup, which you won't be able to help spreading around the table.
Chao slings the usual full-bar steez, plus a selection of sake and Korean soju. For freakish early risers, on weekends from 8am they're cooking up breakfast, including exoticness like Hawaiian French toast and a Spam/BBQ pork fried-rice number dubbed "Island Style" -- also what happens when, after being marooned, friends discover they have much more in common than they were ever comfortable admitting.