When life gives you lemons, you have two choices: make lemonade, or ask life if it has any other kinds of fruit available, since citrus gives you heartburn. Making the restaurant version of a refreshing glass of lemonade, the lady behind Marjorie.

Two years after losing her lease, the owner of Belltown's fave Spanish/French/Caribbean small-platery has turned around said misfortune, decamping to Cap Hill with a royal blue walled, sun-filled 40-seater, tricked with an outdoor patio (accessed via sliding glass garage-style doors), and a pastel colored lavatory that boasts its own record player in an effort to reclaim the old spot's award for "best bathroom" -- they won't stand for number 2. Mains include a sheep's milk ricotta/summer truffle/artisanal ham Pizza, Sirloin w/ fried onion & pepper mignonette, and Rabbit that's served chef's style (in Crocs?). Starter-wise there're Fromage & Charcuterie plates, their famed chaat spice/pineapple/avocado Miss Marjorie's Plantain Chips, and house-made Fresh Farmstead Butter served w/ fleur de sel and a demi baguette (Rumer has it, way hotter than its daughter).

As far as liquid goes, Marge's got fresh squeezed juices, and takes on classic 'tails, like their signature coconut water/ginger-infused simple syrup/rum/lime juice Trenchtown; while after-dinner goodness ranges from bread pudding, to a tart that's made w/ chocolate and coffee, but not lemons, since that would require two other choices: Alka-Seltzer or pain.
Recommended Video
This Mac & Cheese Taco With a Bacon Shell Might Eliminate Tortillas Forever
Previous Venue
Next Venue
Venue Description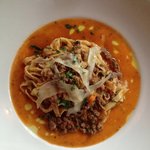 1. Marjorie
1412 E Union, Seattle, WA 98122
Marjorie puts out the True Burger: A grass-fed Painted Hills beef number topped with bone marrow aioli & harissa ketchup, served on a bun from Columbia City Bakery, and limited to just 10 a night.