Americans have long been intrigued with Japanese culture, dating back to the 1800s when Tom Cruise visited that island nation in order to invent samurai fighting... AND gunpowder -- man, is that dude prolific! Bringing you a Japanese cultural activity Cruise also invented to pick up Kelly McGillis, Rock Box.

Opened by -- you guessed it!-- a dentist and wife team, this former customer-service call center has been gutted and turned into 12 private Technicolor-walled sing-along-spaces, and a neon-lit industrial eat/drink area that's heavy with raw-wood slats and boasts a bar built with beams reclaimed from the warehouse at Pier 48, which was where Nirvana played one of their last shows, and was demolished ahead of the viaduct replacement to enable the WSDOT to....oh, Nevermind. To keep it authentic, each of RB's rooms is equipped with a phone so you can order up specialty chick'tails like the Hello Kitty Creamy Martini w/ shochu, coconut rum/puree, and pineapple in a coconut-shred rimmed glass, and the blood orange liqueur/peach schnapps/cranberry Love Hotel, also how Courtney refers to any (s**t)Hole she stays in. Grub-wise they're slinging Asian-inspired small plates including a soy-reduction topped fried chicken called Kara Age, a seared SPAM Musubi-style omelet pressed w/ rice & seaweed, as well as red shiso-tossed Yukkari Pop popcorn that's popped in duck fat, which LaMichael James might want to put on during this five week vacation so he doesn't get crushed by those fat dudes on Auburn.

Because being happy makes you sing, RB's got a happy hour w/ discounted drinks (sake, drafts, wells, etc.) and room-rental rates, plus they've got a large party room with space for up to 35 people to have meetings, screen movies, and perhaps, if they haven't lost that loving feeling, have carnal knowledge of a lady on the premises.
Recommended Video
The Definitive Eggnog Recipe You Need for the Holidays
Previous Venue
Next Venue
Venue Description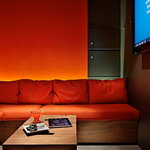 1. Rock Box
1603 Nagle Pl, Seattle, WA 98122
Love the idea of karaoke but too embarrassed to get up there and belt out a few tunes? No need to worry, Capitol Hill's Rock Box is the place for you. With rooms for groups anywhere from two-15 people, plus larger rooms that can seat 35, the space is inspired by the Japanese karaoke box tradition, in which customers can perform in private rooms while enjoying various drinks and small plates. Now you can stuff your face with duck fat popcorn while shouting along to Coldplay, which you would never dream of doing in public.