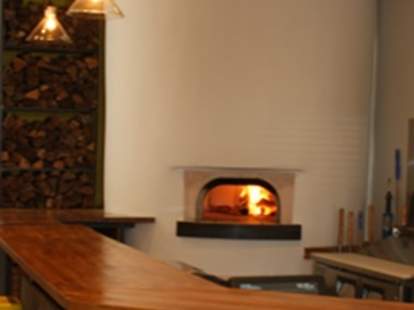 Some of the most sought after raw materials hail from Europe -- clothiers import fine Italian silk to make beautiful suits, and Tiger Woods imported a fine Swede to give Big Bertha to his children. Importing prized European rocks to make you some dank pizza: SeventhHill.
A small, black-and-white tiled, galley pizzeria lined with decorative wooden pizza peals and racked firewood, Hill's helmed by two intrepid Frenchmen who, in order to create truly epic pies, decided to import an oven made from prized Rhone River stones originally recognized by the Romans for their superior baking quality, especially when it comes to crazy bread. Their 11 gourmet 'zas, available in 8'' or 12'', are all named after surrounding 'hoods/streets/landmarks, including the tomato/black olive/anchovies/basil "Southwest Waterfront", the tomato/goat cheese/tapenade/mushroom "Eastern Market", and the artichoke/zucchini/portobello "Lincoln Park", destined to be named MTV's "Best Pizza of the New Millennium" despite not being able to sing. You can also custom-top your pie, or go for daily special soups or paninis that use bread fresh-baked in the same brick oven, each loaf representing thousands of years of tradition that even now drip mayo onto your chinos.
Because imported-stone pizza deserves imported beer, Hill surrounds their Americans (Dogfish, Red Hook) with 8 imports including Leffe, Affligem, and Franziskaner -- all Taylor Made to help you realize your Swedest of dreams.