Family friendly-ish joint gets you Zest-fully full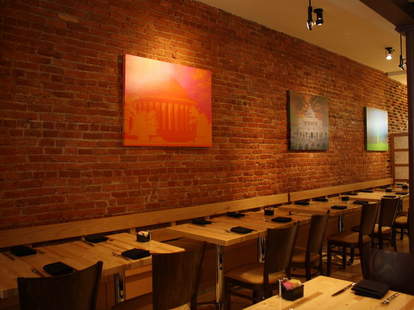 Some things have inherent value that overwhelms their stated purpose, which is why if there were a rap song about Vaseline, it'd go "They say it's good for cuts/But damn you know it's good for butts". And that rap song would shoot straight to the bottom of the charts. But this restaurant will not: Zest.
Set amidst the sea of Hill pubs and ethnic joints, this bright, brick-walled, open-kitchen galley serves up a decidedly adult menu of "creative American cuisine" -- and maintains a fully loaded/open-late bar -- but because they're big fans of sex-for-reproduction, the owners make a point of talking up their joint's family-friendliness, which thankfully stops at booster seats and a kid's menu (but frankly, who doesn't love chicken fingers?). Lighter man-fare includes apps like Country Style Pork Rillette and Marinated Raw Tuna (w/ avocado wasabi mousse); a Milanese chicken breast salad; and sandwiches like the Roasted Leg of Lamb (w/ caramelized onions, feta, pomegranate BBQ sauce), and a smoked turkey/provolone Muffaletta, which sounds like "more for later", and is. Daddy-sized entrees include steaks (rib eye w/ herb fries, or hanger w/ yucca frit), Pepita Crusted Loin of Pork (w/ Yukon gold gratin, mushroom saute, corn jus), and a Penne filled with shaved pecorino, described as "old world style bolognese" -- as opposed to "Lost World style bolognese", which is filled with shaved Goldblum.
To get you in the mood for family-makin', they've got 18 wines by the glass, 15 brews (w/ 4 drafts including Allagash White and Victory Pils); and specialty 'tails like the Woodford Reserve/mint/ginger syrup "Derby" -- a cocktail that, along with your favorite rap song, will reinforce the importance of wearing a hat.