Yessir, Texas is big. But it's an empty wasteland of nodding donkeys, cattle ranches, tumbleweeds, Border Patrol trucks, and never-ending straightaways, right?
Absolutely wrong. Texas has swamps. Canyons. Caves. Gulleys. Forests. Mountains, even. And that one part called the Hill Country, which isn't called that because of Dusty or Hank. Best of all, great driving roads abound around all of it -- some where you'd expect, and some where you'd never figure.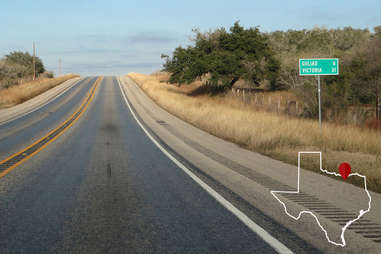 90 degrees year-round
Route: FM 455 from U.S. 75 to Texas 59, Montague.
Length: 85 miles
In the good ol' days, farm-to-market (FM) roads were made so farmers could get crops to the county seat without having to drive the tractor or buy a muddin' four-by. When some FMs were paved, farmers didn't want concrete mucking up their patches of land. The result was roads built between those patches, with straight sections connected by a sharp 90-degree turn.
For the first 25 miles to Pilot Point, FM 455 north of Dallas is a mass of these strung together, making it a superb stretch for acceleration-brake transitions and low-speed apexing. Thing is, Dallas's decades-long expansion north is starting to seep into FM 455 here, to the point that this portion's been in varying states of repair for years.
Once you power past the two-mile stretch that crosses the Lake Ray Roberts dam, FM 455 becomes a meandering series of gentle turns and swells -- with a few more of those right-angle corners peppered in to keep you and the farmers honest -- all the way to Montague.
The real Lonesome Highway
Route: FM 349 from Sheffield to Dryden
Length: 59 miles
Northbound U.S. 62/180 just south of Guadalupe National Park is known as the Lonesome Highway because of the scene it sets: A dead-straight asphalt strip in abject desolation that points straight at El Capitan. This is not about that road.
The real Lonesome Highway is FM 349, which bisects one of America's least densely populated counties: Terrell, population 900 or so, nearly all of whom live in a village not even on this road. You will see more vultures than vehicles. You will not have cell service. You will, at times, think you're speeding across another planet. This is where No Country for Old Men took place.
So why risk it? No one uses it so it's in great condition and because it snakes through the scrub-peppered western gullies of the Pecos River, it's a phenomenal test of your ride's suspension. You'll come close to catching air before some dips, and need to brake deftly before and after FM 349's many semi-blind corners. It's as close to a feeling of "This road is allll miiiiine!" as you'll get.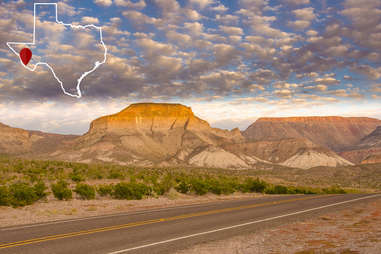 Zoom with a view
Route: Ranch Road 170 from Presidio to Terlingua
Length: 65 miles
To get to Ranch Road (RR) 170 requires time and effort; it's about 250 miles from the nearest big city (El Paso), and its start is basically the back door to what's already one of the U.S.'s most remote National Parks: Big Bend. But that's the whole point.
Locals call RR 170 the "River Road" because it hugs the Rio Grande starting at Presidio, a dusty, low-slung border town once favored by Pancho Villa. Where the river ends, a long stretch through flatlands starts carving into earth again. About five miles in, RR 170 enters, then straddles, Big Bend Ranch State Park. What this means for your drive is a really well maintained road that progressively dives deeper into ruggedness -- lots of little bends leading to Big Bend -- and some absolutely breathtaking desert canyon-scapes. The speed limit is somewhat low, so it won't test all of your skills unless you tempt some fate. But it is Texas's most exhilarating scenery.
The best McDonald's drive-thru, ever
Route: Texas 118 from Alpine to Interstate 10, Kent
Length: 87 miles
In West Texas, the Chihuahuan Desert meets the Permian Basin at the Davis Mountains, which has given us several awesome things: a nearby ranching town ironically named Alpine (with a restaurant, Reata, responsible for up-leveling chicken fried steak to gourmet status), an observatory with telescopes that are among the world's largest, and Texas 118.
This is literally Texas's highest highway, with a peak elevation of 6,791 feet at the top of switchback-packed, 1.5-mile Spur 78 at McDonald Observatory. Between Alpine and that point, you'll beeline to the hills, then climb and curve through the southern range. After that, the drive dives down to Fort Davis where the fun really begins. Test your whip's pulling power as you gain nearly 2,000 feet in 12 tightly-cornered miles through Davis Mountains State Park's forest to the star domes of the observatory. The descent afterward is the best stretch, with sharp, multi-radius corners transitioning at Beef Pasture Gap to gracefully graded sweepers, then to valley-bracketed sections that end with a final quickie straight to Interstate 10.
Note the weather before driving Texas 118; snow is not uncommon in winter despite the arid climate. Remember the Alpine!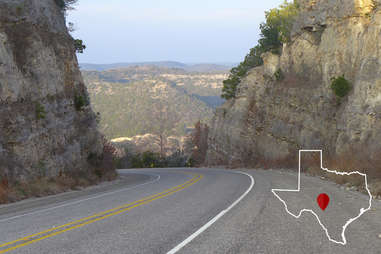 Come out and play: the Twisted Sisters
Route:Ranch Road 335 from Barksdale to Texas 41, then east to Ranch Road 336 from Texas 41 to Leakey, then Road 337 E from Leakey to Medina
Length: 105 miles
Known among serious drivers and motorcycle riders alike as the Twisted Sisters, these 1950s-era ribbons flit in, out of, and around valley rims, walls, and basins like no others in the state. They are completely unpredictable, in good ways and not, with every conceivable type of corner short of a U-turn and wild variations in pavement quality, width, grade, exposure to sunlight, traffic -- even moisture and varmints. Pass a local on one, and they will honk with displeasure. Oh, and rock slides are a near-weekly occurrence.
Yes, the Twisted Sisters rock. Hard. Start with 335, the most isolated, deteriorated, and narrowest of the three, and progress to 336, which starts with an ominous sign stating how many bikers have bit the big one on this road in the past decade or so. End with 337 E, in the best condition and with the fewest perils. At the terminus you'll feel just like you do after a great metal concert: spent, agitated, and incredulous, but ready to do it again because you wanna rock! Rock!
The other Anderson Loop
Route: FM 149 from Texas 105, Montgomery to FM 3090, then north to FM 244, then south to Texas 6, Navasota
Length: About 47 miles
To San Antonians, the Anderson Loop is a highway north of downtown. To those in Houston -- which lacks quality routes to wring out rides on -- it's the top regional option for all sorts of sporty wheeled go-fast shenanigans: performance cars, sport bikes, road cyclists, and even three-wheel autocycles.
Starting in Montgomery just west of Lake Conroe, arc-shaped FM 149 wiggles through a couple miles of extra-burbs before shooting into Sam Houston National Forest, trading churches and municipal sports complexes for a hilly, smooth, shaded slither up and down, left and right. Then it opens up to softly rolling farmland drained by Garretts Creek, with a straight, then a tumble, down to Anderson.
From here, you've got options; the sweetest and twistiest is to stay on FM 149 (which gets more taut here) to little-known FM 3090 and turn north, which results in a 10-mile carving full of right-angle turns, taut sweepers, and a couple of S-bends. Then, at FM 244 (yawn), turn however many wheels are beneath you around and go all the way to Navasota -- the portion south of FM 149 is a more jagged, mostly tree-lined, pretty much undiscovered gem, unlike those obnoxious autocycles.
The Panhandle Chip 'n' Dip
Route: Texas 207 from U.S. 287, Claude to Texas 86
Length: 48 miles
Driving to the Texas Panhandle from anywhere is hell. It's flat, featureless, uninteresting, ugly. It's no wonder the cops there have an unforgiving reputation. But if you find yourself near Amarillo, this road southeast of there will make the experience bearable. Barely.
For the first 14 miles, Texas 207 makes like a ramrod due south. Then, all of the sudden, it dips downward, then cuts through a good 100 feet of rust red rock, then reveals the U.S.'s second largest canyon by area: Palo Duro Canyon. (Yep: you're going in.) A series of sublimely fluid mid- and high-speed sweepers follows for the next 10 miles, bisected by the Prairie Dog Town Fork Red River mouthful -- be careful here if it's rained recently, as bronze earthen goop from runoff can lubricate the asphalt slick. It all ends with a 900-foot-high scamper out. It's so good and so easy (it's not a technical road, but it is fun), you'll want to turn around and do it again going the other way.
Farther south, you'll find a few more curves at MacKenzie Lake, located at a tip of a canyon finger. Otherwise Texas 207 is as rigid as Panhandle roads tend to be, except for that magical stretch called Hamblen Drive, for the man who made the road possible in the 1920s.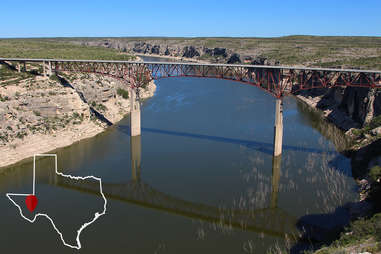 WOT! WOT!
Route: U.S. 90 from Marathon to Comstock
Length: 143 miles
It's not all that smart to speed on a public road. You know the risks. But most modern cars can go much faster than posted limits, and more safely than ever -- including yours. Well, Texas has a highway just for you.
This segment of the highway is in fabulous condition. It's almost totally straight, save for the occasional gentle bend and man-blasted slice through a swell, and seldom traversed except by commercial trucks -- most of which opt for Interstate 10 to the north anyway. Particularly east of Sanderson, sight lines span several miles. And though its units are assigned by county, the nearest Texas Highway Patrol substation is far enough away that a patrol car will burn most of its fuel just to reach this stretch. Even Road & Track once tagged it as a place to triple your digits.
Conditions are ideal from Dryden to where the Pecos River dumps its neon turquoise water into the Rio Grande just west of Comstock. Go ahead. Let it out. Let your ride run wild! Go for the great wide open (throttle).
Sweeper Keepers (tie)
Route: FM 4 from U.S. 67, Cleburne to U.S. 180, Palo Pinto
or
FM 219 Texas 22 near Lake Whitney to Texas 6, Dublin
Length: 71 miles each
The area southwest of Fort Worth is arguably Texas's most underappreciated. Lush, mysterious, and swollen with crests and dips, it splits a difference between Blackland prairie, the Hill Country, and East Texas's Piney Woods. All the better for the Speed Racer in you are these dual, sweeper-laden drives of equal length, similar challenges, and 10 o'clock direction. Take your pick. They're both awesome.
A preferred jaunt for DFW exotic car tours, recently resurfaced FM 4 beats a jagged path through farm and oil lands for a few miles before the Brazos River valley polishes the edges and initiates the hills. From just east of Granbury all the way to Interstate 20 you'll enjoy one high-speed bend after another -- but don't skip the final stretch to Palo Pinto and its two rugged sections of unexpectedly compressed turns.
Slightly tighter, more narrow, and less traveled, FM 219 is dubbed the Cranfills Gap run after the tiny church town that marks its midpoint. Its smaller and more numerous sweepers are more ideal for the common sporty car than a Ferrari or Lambo. The turns lessen somewhat at Carlton, but the final 12-mile shot from there to Dublin is worth it for no other reason than to say you drove to the birthplace of Dr. Pepper.
The No. 12 Seed
Route: Ranch Road 674 from U.S. 90, Brackettville to U.S. 377, Rocksprings
Length: 58 miles
Set on the cusp between the barren lower Rio Grande floodplain of South Texas and the westernmost nether-regions of the Hill Country, this is Texas's ultimate underdog road. Few east of here travel this far, and those west and south of here just don't care. But if you get here, you'll win.
Let your car out to breathe a bit on the straights north of Brackettville. Once you reach Kickapoo Canyon State Park, the run to the hills starts in earnest. A magnificent series of wind-swept up-and-down curves get progressively tighter, broken only by the occasional low-water crossing as the track follows the scythe-shaped bends of the West Nueces River bed. A final craggy wiggle out of the valley reveals the final semi-arid sprint up to oak tree Valhalla, also known as Rocksprings.
This road has it all: lonely straights, sweet sweepers, sharp bends, taut curves, power-testing climbs, low-gear descents, great views -- all on asphalt in above-average condition for its age.
Mike Daniel drove a Lamborghini Countach at age 14. Since then, he has been many things: tennis champion, art snob, music critic, car and sportbike nut, french fry connoisseur, cover-band journeyman, even the founding editor of Thrillist Dallas. Today he's happiest with a nitro stout in one hand and pretty much anything with bacon in the other, either planning his next road trip or arguing that the mantra "there's no replacement for displacement" should include provisions for forced induction and coolant capacity.