The 7 Most Exhilarating Drives in Texas
Gas up the car, drop the top, slip on some shades, and hit the road for a Texas trip to remember.
Texas is massive. So massive that you can drive more than 12 hours and 800 miles and still remain within state borders. Throughout those miles, there are long stretches of nothingness that don't exactly make it onto postcards, sure, but the Lone Star State is also teeming with diverse geography and scenery ranging from desert landscapes to verdant green hills, and from rugged mountains to sandy coastlines. You could spend a lifetime exploring Texas' crisscrossing interstates, country routes, and byways, but that seems like a lot of effort. Instead, set your GPS coordinates to these seven breathtakingly gorgeous and totally exhilarating Texas drives.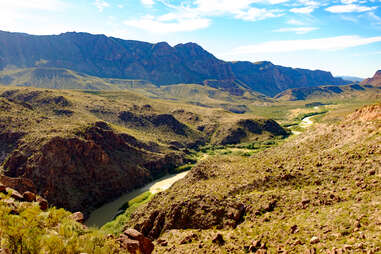 River Road
Route: Terlingua to Presidio
Length: 62 miles
There are two River Roads in these parts. The first is a rugged trail that requires an off-road vehicle to navigate—excellent in its own right—but the sedan-inclined can get their kicks along Farm-to-Market Road 170, which is also dubbed River Road and is a paved stretch from Terlingua to Presidio. This scenic drive runs alongside the Rio Grande River, and while the river is only visible in small windows, the winding, undulating road is not short on mountain views and desert vegetation. You can begin the route from either side, but if you're coming from Marfa, head south on 67 to Presidio and then east to Terlingua, where you can stop for lunch before turning around. If you'd like to extend your stay in the area, consider a couple nights at the Lajitas Golf Resort, where you can rest your head, eat a good meal, and play 18 holes at one of the state's best golf courses.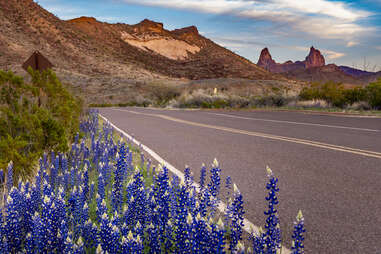 Willow City Loop
Route: Begin and end at State Hwy 16 and Farm Road 1323
Length: 21 miles
The Texas Hill Country is full of picturesque drives and gentle undulations as you wind through, yes, both hills and country. Winery and wildflower views abound, but it's hard to beat the Willow City Loop, a private ranch road located just outside of Fredericksburg. This laid-back journey is a fun excursion any time of year, but it's best visited during the spring when the Bluebonnets are in full bloom, often alongside other vibrant flowers like Indian paintbrushes, poppies, sunflowers, and firewheels. From Fredericksburg, head north on State Highway 16 until you reach Farm Road 1323. Turn right and follow the loop until you're back where you started. One caveat: If you go during prime season, the road is best traveled during the week, as weekends bring hoards of flower-peepers there for the same reason as you.
Ross Maxwell Scenic Drive
Route: Ross Maxwell Scenic Drive to Saint Elena Canyon
Length: 31 miles
Located within the vastness of Big Bend National Park, the Ross Maxwell Scenic Drive is named for the park's first superintendent, who promoted this route to highlight the area's geologic features. It's 31 miles out and back, so 62 total miles, and the drive takes about an hour and a half. Meander through the arid landscape and rocky cliffs, but build in some extra time, because along the road you'll find side detours and other reasons to get off the beaten path, including a stop at Sam Nail Ranch, a couple of scenic overlooks, and the Castolon Historic District, an old cavalry camp that's listed on the National Register of Historic Places. You'll end at Saint Elena Canyon, a 1,500-foot vertical limestone chasm that divides Texas and Mexico. No big deal.
Bluewater Highway
Route: Galveston Island to Surfside Beach
Length: 40 miles
The Texas Gulf Coast stretches 367 miles and is a popular spot for tourists, whether they're visiting Galveston or one of the many other great beaches in the area. But if it's an epic cruise you're after, then point your car to Bluewater Highway. This 40-mile route takes you from Galveston Island down the coast to Surfside Beach. You'll enjoy unobstructed views of the Gulf of Mexico, and you'll feel like you're floating as you cross the 1.3-mile San Luis Pass Bridge. When off the bridge, there are several opportunities to get out and stretch your legs, sunbathe on the sand, or stop for a seafood snack at a waterside restaurant, so you can make the trip as short or as long as you desire.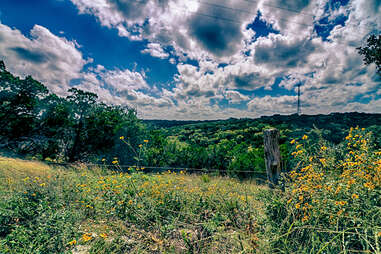 Devil's Backbone
Route: Blanco through Wimberley
Length: 50 miles
Trust—this drive is a lot scarier than it sounds. It connects two popular Hill Country towns, Blanco and Wimberley, and grants access to the area's many wineries, breweries, and distilleries. Starting in Blanco, head out on either Farm Road 165 or Farm Road 32, roughly following a limestone ridge dotted with prime panoramas of rolling hills and rocky outcrops. Keep going and you'll loop back to where you started, but along the way you can break up the drive with a stop at Jacob's Well. This natural spring features an extensive cave system that's been charted down to 140 feet, and a blue swimming hole that maintains a 68-degree temperature year-round.
Twisted Sisters
Route: Medina to Barksdale via Ranch Roads 337, 336, and 335
Length: 105 miles
Featuring 200 incredible curves over 105 miles, the famed Twisted Sisters expanse feels less like rural Texas and more like you're navigating mountain switchbacks. The road is a favorite among motorcyclists, so hop on your bike or, if you're on four-wheels, make sure to check your blindspot. The merger of three different ranch roads features diverse scenery, ranging from steep hills and deep canyons to green foliage and scraggly brush. Keep your eyes on the road, as many of those turns are free from guardrails. Starting in Medina, located about 120 miles west of Austin, take Ranch Road 337 to Leakey, then head north on Ranch Road 336. Turn left on Texas 41 until you hit Ranch Road 335, then take that south to Barksdale. Or, do the opposite and end in Medina, where you can refuel on brisket and sausages at Keese's Bar-B-Que.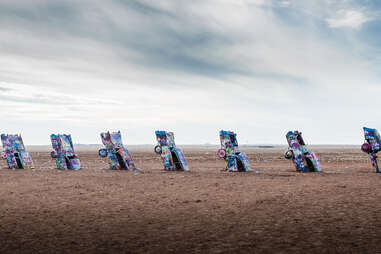 Route: Groom to Glenrio
Length: 113 miles
This route is admittedly more fascinating than pretty, but if you want to channel American history and traverse the road that expedited the country's westward expansion (while staying put in Texas), this is the way to go. Much of the Texas Panhandle's old Route 66 has been replaced by Interstate 40, but original stretches still exist, taking you by quirky sites, through ghost towns and Cadillac graveyards, and directly to 72-ounce steaks. The road in and around Amarillo has a couple of the best stops, including Cadillac Ranch, a public art installation that features 10 vintage cars buried nose-down in the ground. Graffiti is encouraged, so bring some spray paint and leave your mark. Then fill up at The Big Texan Steak Ranch—if you finish the 72-ounce steak and all the sides within an hour, your meal's free.
Kevin Gray is a freelance writer and editor covering all things food, drinks, and travel. He's written for
The Dallas Morning News, Forbes, Liquor.com, Men's Health,
and
Wine Enthusiast
, and his extensive home bar is turning into a real
Hoarders
situation
.