Whether you're a car guy with no space to play mechanic, or just someone who appreciates damn fine names for businesses, you'll rejoice at the arrival of Jack Junkies. Not a self-help group for lonely, lonely men (though technically it could fulfill that purpose), this fix-it-yourself garage was started by a guy who grew tired of his homeowners association pestering him about his hobby, and of the arm/leg/date-with-your-sister professional mechanics charge for even the simplest repairs. With almost 16,000sqft, 18 bays, and plenty of tool rentals, they'll also pass on their corporate discount on O'Reilly parts, and you can rent a tech, if you feel a job's too much for you, and can put up with Tuberville passive-aggressively criticizing your drinking. Check out our photos of the setup, and some super-excellent cars that belong to the building's owner -- one landlord that doesn't mind his tenants jacking around.
Recommended Video
Flying Cars Are Finally Going to Be a Thing
Previous Venue
Next Venue
Venue Description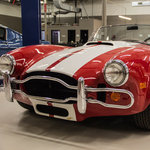 1. Jack Junkies
1201 E Plano Pkwy, Plano, TX 75074
Basically, a DIY car repair shop in Plano. Bring your wheels and rent some of their tools, which'll appropriately prevent you from being a tool paying too much for a repair elsewhere, because you're a man and you can fix it yourself.